Michael Adebolajo
Photo: Reuters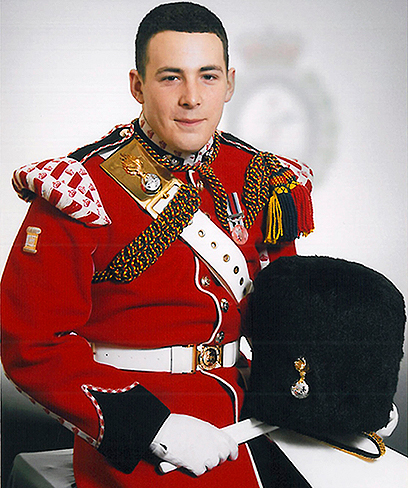 Lee Rigby, the victim of the attack
Photo: Reuters
VIDEO - Two Muslim hardliners say the man seen wielding a bloody butcher's knife after the killing of a British soldier in south-east London is a Muslim convert who took part in demonstrations with the banned radical group al-Muhajiroun.

Michael Adebolajo, 28, is a British man of Nigerian heritage, and a Muslim convert who took part in demonstrations with the banned radical group al-Muhajiroun.

Related stories:

Sources familiar with the investigation say both suspects were on the radar of British police tracking Islamist extremism, but authorities had no chance to thwart an attack that required no more preparation than buying a set of butchers' knives.

The other suspect, who has not been named publicly, was too a British citizen of Nigerian heritage. Both suspects are in custody in hospitals after being shot by police.

Video courtesy of jn1.tv

Former al-Muhajiroun head Anjem Choudary told The Associated Press that the man in startling video footage that emerged after the killing as Michael Adebolajo, a Christian who converted to Islam around 2003 and took part in several of the group's demonstrations in London.

The BBC broadcast footage from 2007 showing Adebolajo standing near Choudary at a rally.

Omar Bakri Muhammad, who now lives in Lebanon but had been a radical Muslim preacher in London, also said he recognized the man seen on television as Adebolajo and said he attended his London lectures in the early 2000s. Police have not named Adebolajo.

Bakri said he remembers Adebolajo as a "shy person" who was keen to learn about Islam and asked interesting questions.

Meanwhile, British police on Thursday evening announced the arrests of two more suspects in the case.

Scotland Yard said counterterrorism officers arrested a man and a woman – both 29 – on Thursday on suspicion of conspiracy to murder. Both suspects are in custody at a south London police station.

Scotland Yard said in a statement: "Search warrants have been executed at six residential addresses; three in south London, one in east London, one in north London and one in Lincoln. The searches are ongoing. This is a large, complex and fast-moving investigation which continues to develop. Many lines of inquiry are being followed by detectives and the investigation is progressing well."

The soldier who was killed in the decapitation attack in east-south London has been named as Drummer Lee Rigby, of the 2nd Battalion The Royal Regiment of Fusiliers. Rigby, 25, was the father of a two-year-old boy, Jack. The drummer was born in Manchester and joined the British military seven years ago, The Guardian reported on Thursday.

US President Barack Obama issued a resounding condemnation of the grisly act. "The US stands resolute with the United Kingdom, our ally and friend, against violent extremism and terror. There can be absolutely no justification for such acts, and our thoughts and prayers are with the family of the victim, the police and security services responding to this horrific act and the communities they serve, and the British people.

"Our special relationship with the United Kingdom is especially important during times of trial, and I look forward to my trip to the United Kingdom to participate in the June G-8 Summit, hosted by Prime Minister Cameron, which will include discussions on the important global security challenges our countries face together," Obama added.
Receive Ynetnews updates directly to your desktop