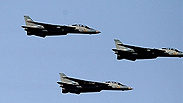 Illustration
Photo: Iranian news agency Fars
The Iranian Air Force has launched a large-scale military exercise Friday morning in the country's southwest, in the area of the Strait of Hormuz. The drill, which will also be held in Persian Gulf skies, is expected to take place Friday and Saturday, with the participation of fighter jets, transport aircrafts and helicopters. More than fifth of the world's oil shipments pass through the Strait of Hormuz.

Iran said that this is the second phase of large-scale maneuvers by the coutry. Iran's Deputy Air Force Chief Ali Reza Barkhor said that units from Air Force bases across the country will take part in the exercise, which consists of thee phases.

Related stories:

The Iranian Air Force said that these maneuvers are part of an annual practice meant to examine Iranian-made air defense systems, improve the combat readiness of the units and showcase the army's achievements.

Barkhor said that aerial combat and bringing down aerial targets is the technical core of these exercises. He added that the drills include different kinds of interception, fighter and reconnaissance jets. According to him, the purpose of the drill is to send out a peaceful message of friendship and security to the countries of the region.

In the drill, the Iranian Air Force fighter jets will practice electronic warfare, and two Iranian-made jets will take part in the exercise. Iran added that the drill will also be joined by F-5 Phantom jets, Sukhoi Su-24, MiG 29 and other transport aircrafts. The previous aerial drills were conducted in the country northwest in September 2012.

Iran is quite proud of its airpower. Last month, several days before signing the nuclear deal with world powers in Geneva, the Islamic Republic announced that it has developed a new drone, which it claims to be the biggest one made in Iran yet. It is claimed the drone can fly 30 hours straight and reach a distance of 2,000 kilometers (1250 miles). The meaning is that it can reach anywhere in the Middle East, including Israel.
Receive Ynetnews updates directly to your desktop