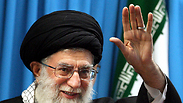 Iranian supreme leader Ayatollah Ali Khamenei. Clear foreign policy objectives
Photo: AP
On December 16, an article published on the New Yorker quoted Ayatollah Khamenei as follows: "If our centrifuges do not continue to turn, no other wheel shall turn for our dignity, independence, power and security."

Such a stance has to be understood as part of the Persian wider revolutionary strategic positioning. While many analysts argue that Tehran is not a rational player due to the apocalyptic messages a majority of its leaders have been pronouncing since 1979, it may be possible to speculate that the Islamic Republic has a set of clear foreign policy objectives.

At Crossroads

Analysis: Despite shared interests, there is little chance for normalization in Saudi-Israeli relations

In addition, due to the current show of weakness by the Western world it is likely that Iran's establishment considers these political, military and economic objectives highly attainable. To put it in a simpler way, Iran feels it is a step closer to winning a war that has been lasting for almost three decades.

Three factors are essential to understand the basis of what may be considered a victory by Iran. The country has since 1979 held a revolutionary foreign policy based on the use of terror and asymmetric warfare to destabilize and weaken its enemies, for this a first element in Tehran's strategic equation lies in its ability to maintain pressure on its adversaries in the region and worldwide.

This goes hand in hand with the second point, which may be defined as a more intangible concept of international prestige. While widely isolated, Iran is positioning itself as a key player in the Syrian conflict and in Iraq's turmoil in the attempt to overtake the US and Sunni Monarchies role as deal makers in the region.

The third factor lies in an attempt by the Islamic Republic to expand its economic influence. Having an economy highly strained by international sanctions, Iran looks at its Caucasian neighbors, Iraq and Afghanistan as a much needed breathing space through which it can increase its regional presence and appear as a stable power.

These three strategic pillars are effectively declined in four objectives shaping Iran's foreign policy, and ultimately Tehran's understanding of victory.
Solid bases to achieve hegemonic ambitions
Since Khomeini took power, the first objective of the Shiite revolutionary country is to undermine Israel and the United States' security and presence in the region. This objective goes beyond simple ideological boundaries and is in itself a structuring element of the Iranian military and political establishment. The drive for the nuclear bomb has to be understood as a central element in this credo which would shift Iranian strategic balance from the use of unconventional and asymmetric warfare to having an embryo of nuclear deterrence.

The second objective is based on the regional fracture between Shia and Sunni states as Iran's policy in its close neighborhood is aimed at weakening Sunni monarchies. Through the last decades, Tehran has relentlessly advocated a territorial expansionist agenda. Teheran claims sovereignty over Iraq's Shatt-al-Arab, on Bahrain, on the Abu Musa islands and the Strait of Hormuz. It is important to note that Iran has no intention of converting Sunnis into Shias, however it maintains the goal of becoming a hegemonic power over Muslim populations in the region.

The third purpose is defined by the Iranian protracted effort to increase its power projection capabilities. The best example can be found in the political and human capital it invests in Lebanon and Syria. Through Hezbollah, its support for Hamas and a number of other para-military organizations in Iraq and the Gulf, Iran intends to effectively impose its regional views by challenging state sovereignty and creating parallel structures meant to weaken central institutions and implement revolutionary policies. To attain this purpose, Iran has been expanding its global footprint. For this it increases its weapons shipments to terrorist groups in Africa and South East Asia while setting up strategic forward operating bases in Europe and Latin America.

The fourth Iranian goal, which is today at the forefront of the Persian PR campaign, is found in Tehran's ambition to normalize its image. For this, it has been expanding its economic influence throughout its direct neighborhood. From Herat to Basra and from Yerevan to Damascus Iran is playing its diplomatic and commercial cards to assert itself as a key player.

Taking into consideration these efforts, it must be highlighted that the current US administration, along with its European partners, is giving Tehran all the signals stating that its regional ambitions will not be challenged. In other words, the Islamic Republic strategy may not be a winning one in itself, however due to the freedom of action it is receiving, Iran is building solid bases to achieve its hegemonic ambitions.

This situation sees the US and the EU as enablers to a long lasting Iranian expansion in the Middle East, in Central Asia and in Southern Caucasus.

As President Obama virtually surrendered the threat of a military action, Iran is now free to keep on enriching uranium while increasing its armed presence in the Near East.

As a portion of US and EU lobbyists see in the Iranian market a dreamt investment land, they veil their judgment and keep on being charmed by Rohani's smile.

As Western societies are increasingly numbed by anti-Israeli and revolutionary rhetoric, they are not able to push for diplomatic moves aimed at countering Teheran's destructive messages.

Short of military, political or diplomatic setbacks Iran will keep on considering the current situation as one ultimately leading the country to victory, a victory which will prove to be disastrous for the region. Iran's success is linked to the undermining of state sovereignty in Lebanon and Iraq, in protracted and increased insecurity in Israel and in the intensification of Sunni/Shia violence throughout the Middle East.

Riccardo Dugulin is an international affairs analyst. He holds a master's degree in international security from the Paris School of International Affairs (Sciences Po) and has worked in leading think tanks in Washington DC, Beirut and Dubai. He has held the position of security coordinator for a security assistance firm. His official website is www.riccardodugulin.com and his official Facebook page is https://www.facebook.com/riccardodugulin