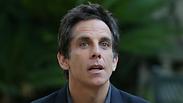 Stiller. 'Whirlwind romance' in Israel
Photo: MCT
One of Ben Stiller's life-altering expeditions took place in Israel more than 30 years ago, the 48-year-old American Jewish actor told Parade magazine in an article promoting his new film, "The Secret Life of Walter Mitty."

Stiller is the son of veteran comedians and actors Jerry Stiller and Anne Meara, who was raised Catholic and converted to Reform Judaism six years after marrying Jerry Stiller. In the interview, he revealed a romantic experience which took place next to the Western Wall in Jerusalem, one of the holiest Jewish sites.

Recent Visit

Hollywood stars Ben Stiller, Chris Rock and Jada Pinkett Smith visit Israel to promote animated movie 'Madagascar – Escape 2 Africa.' Marty the zebra loves Israel, Rock declares

"My dad and I took a father-son bonding trip to Israel when I was about 16… We ended up diving in the Red Sea together," Stiller recalled. "I met a girl on that trip and we had a whirlwind romance. Is it blasphemous to say we ended up making out near the Western Wall? It might be. But we did… It was one of those times you don't ever forget."

Stiller, who is an outspoken supporter of Israel, has returned to the country several times since then, even after marrying actress Christine Taylor 20 years later.

In the interview Stiller also addressed his relationship with his wife: "(Christine and my) relationship was a gradual thing that happened over a quick period of time, maybe seven or eight months. We just started hanging out with each other and it developed into, 'Wow, this feels great. I really like this person. I think I love this person. I really do – I love this person.' It hit me out of the blue."

In "The Secret Life of Walter Mitty," Stiller plays a day-dreamer who works in Life magazine's negative assets department. When his job is threatened, embarks on a global journey which takes him all the way to Iceland and turns into an extraordinary adventure.

The fantasy drama film, which Stiller also directed, will hit the screens in the United States and Israel this week.

The film also stars Kristen Wiig and Adam Scott and includes guest appearances by Sean Penn and Shirley MacLaine. It is based on a short story written by James Thurber 1939. In 1947, Danny Kaye appeared in a Norman McLeod film loosely based on Thurber's story, which is quite different from Stiller's version.