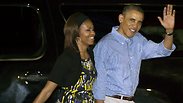 Obamas in Hawaii
Photo: AP
The First Family has landed – in Hawaii. President Barack Obama, his wife, his mother-in-law, and two daughters arrived at the exotic chain of islands in the Pacific for their annual holiday vacation.

Obama flew on Air Force One after giving a final, year-end press conference at the White House.

Related stories:

Accompanied by their two dogs Bo and Sunny, the Obamas struck a relaxed pose, emerging from the 9.5 hour flight from DC in casual wear.




After a year in which his signature legislative achievement nearly tarnished his legacy, a leaker threatened his ability to keep US intelligence operations in the dark, and his closest ally vocally disagreed with his negotiating tactics against Iran, President Obama could use two weeks with no timetables, meetings, or speeches.

Obama described the family vacation as a chance to "sleep and sun."

Before the flight the president also managed to make an appearance on the Steve Harvey Show.

During the lighthearted interview on the popular comedy talk-show, Obama said he was not worried about his high-school-aged daughters dating: "This is the main reason I ran for re-election… I'm going to have them covered for most of high school."

Obama referred to the Secret Service security detail as another reason he is not worried about his daughters, "I've got men with guns following them around all the time."
Receive Ynetnews updates directly to your desktop