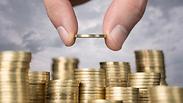 Illustration
Photo: Shutterstock
The Bank of Israel is expected to leave short-term interest rates unchanged for a third straight month this week amid signs of recovery in economic growth and as the US Federal Reserve begins paring back its bond-buying program.

All 15 economists polled by Reuters forecast no rate change when the decision is announced on Monday.

Policy Meeting

Policymakers says Bank of Israel held short-term interest rates last week because there was no economic reason to cut them, not to defer any change in borrowing costs until new governor is in place

"The loosening cycle has likely come to an end," said Daniel Hewitt, emerging markets economist at Barclays Capital, believing rates will probably stay on hold until late in 2014. "The Bank of Israel has a more neutral bias than previously but rate decisions and the future direction remain data-dependent."

For a second straight month, the monetary policy committee (MPC) voted 5-0 to leave its benchmark interest rate at 1.0 percent on November 25. The MPC had made a surprise rate cut in September.

The central bank has lowered rates and bought tens of billions of dollars in the past few years to try and halt an appreciation of the shekel, since exports account for 40 percent of Israel's economic activity.

Israel's economy grew at an annualized rate of 2.2 percent in the third quarter, well below expected and largely due to a drop in exports. New Bank of Israel Governor Karnit Flug called the growth "disappointing".

The central bank foresees the economy growing 3.6 percent in 2013 – boosted by the start to natural gas production at a large offshore well – and 3.4 percent in 2014.