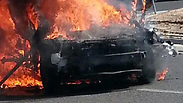 Burning car after explosion
Photo: Egged
A powerful car explosion struck central Israeli city of Rehovot Monday morning, in the heart of a residential neighborhood. A father and his son, aged 45 and 25, were seriously injured.

Large police forces arrived on site. It is estimated that the background to the incident is criminal. Magen David Adom emergency services that were called to the scene treated the two injured men and evacuated them to Kaplan Medical Center in the city. The son suffers from burns and the father has a multi-system injury.

Related stories:

The explosion occurred at a highway exit bypassing a residential neighborhood. The two car passengers were in the vehicle when the powerful device detonated.

Scene of Rehovot assassination attempt (Video: Eli Senyor) (צילום: אלי סניור)

Police investigators that rushed to the scene were amazed to find the two had survived the massive explosion, which caused vehicle parts to fly a distance of tens of meters.

The assassination attempt Monday took place after two months of many efforts by the police to battle organized crime families. In early November, a man was critically injured in an assassination attempt in Ashkelon, when a device that was attached to his car detonated. Police officials said that the assassination target belonged to a well-known criminal group.

Ten days earlier, a courier for the same criminal group was killed in a car explosion near a school in Ashkelon's downtown. Hours prior to that there was another assassination attempt in Yokneam, where a man was seriously injured.
Receive Ynetnews updates directly to your desktop