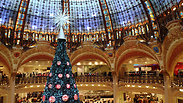 No Chirstmas trees in Knesset
Photo: Shutter stock
The office of the speaker of the Knesset sad he has rejected a Christian lawmaker's request to publicly display a Christmas tree in the building.

Eran Sidis, a spokesman for Knesset Speaker Yuli Edelstein (Likud), said Monday that the speaker rejected the request, but said the parliamentarian could display a Christmas tree in his office and his party's conference room.

Related stories:

Sidis denied the rejection was connected to Israel's Jewish character. He said displaying the tree until Orthodox Christmas January 7 would be too long.

Hanna Swaid, an Arab-Christian member of Knesset from Hadash - Israel's communist party - Arab minority, said a Christmas tree would promote multiculturalism and freedom of religion.

There have been previous bans on public Christmas tree displays. The mayor of a Jewish town bordering Nazareth has previously refused them, though some Christians live there.
Receive Ynetnews updates directly to your desktop