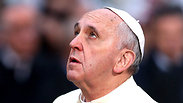 Pope Francis
Photo: Getty Images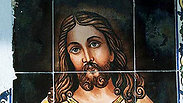 In a Christmas message, Palestinian President Mahmoud Abbas referred to Jesus as a "Palestinian" messenger of hope.
Palestinian officials said Abbas used the term in a historic context, applying to all those in the Holy Land at the time, regardless of religion. Few scholars dispute that Jesus was raised as a Jew.
Related stories:
Abbas' emailed comments Monday appeared to be part of an effort to reach global public opinion and strengthen links between the Palestinian and Christian narratives.
Abbas said Jesus was a "Palestinian messenger who would become a guiding light for millions."
A majority of Palestinians including Abbas are Muslims, but he and predecessor Yasser Arafat have called for unity of Palestinian Christians and Muslims.
Abbas urged Christian pilgrims from around the world to visit the Holy Land to mark the visit of Pope Francis, set for 2014, in a Christmas message on Monday.
"As we begin preparations for the visit of His Holiness Pope Francis next year, we call upon pilgrims from all over the world to come and experience Palestine and our Holy Sites," Abbas said. The pope's visit "will be a good opportunity for Christians from all over the world to become closer to their sisters and brothers in Palestine."
The pontiff is to make a brief visit to Israel and the Palestinian territories from May 25, his first to the Holy Land, Yedioth Ahronoth said last week.
Abbas added that he hoped the Francis would "spread the message of justice and peace for the Palestinians, as for all peoples of the world."
During the visit, the pope will celebrate a high mass in Bethlehem, the traditional birthplace of Jesus, local media reported.
The trip has yet to be officially confirmed by the Vatican, although the announcement could come in the weeks after Christmas.
But a Vatican spokesman has said officials from the church have made a site visit.
Pope Francis was invited to visit the Holy Land by Israeli President Shimon Peres in April, and by Abbas, who met him on October 17.
In a Christmas message on Wednesday, the Latin patriarch of Jerusalem, Fuad Twal, said the pontiff "cares about the Holy Land and the Middle East."
Receive Ynetnews updates directly to your desktop