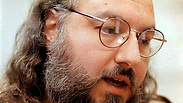 Jonathan Pollard
Photo: AP
Washington – A former senior American security representative said Israel's request to free Jonathan Pollard was "chutzpah".
"Israel has taken chutzpah to new heights, simultaneously demanding that the United States stop spying on Israel and that it releases the guy caught spying on the United States for Israel", Stewart Baker, a former Homeland Security official in the administration of President George W. Bush, said in a blog post on The Volokh Conspiracy.
Related stories:
Baker was not referring to the Israeli media reports, but rather to what two ministers said, Intelligence Minister Yuval Steinitz and Tourism Minister Uzi Landau: "This moment is better than any other moment to have Jonathan Pollard freed."
This is the first public response from a former senior representative that went out against Israelis' cries to free Pollard. Other high-ranking Americans, led by former CIA head James Woolsey, have spoken out in favor of releasing Pollard after he had spent so many years in jail.
Letter to Obama
The Conference of Presidents of Major American Jewish Organizations sent a letter to President Barack Obama on Sunday asking him to commute Pollard's punishment, in order to have him released by next September, before the Jewish holidays.
"Pollard has served longer than any person convicted of a similar offense and his sentence should be commuted to the 28 years he has already served," the letter said.
The organization, which is aligned with Prime Minister Benjamin Netanyahu, also wrote that many former high-ranking officials in the American administration at the time of Pollard's arrest are not in favor of Pollard continuing to serve time in prison.
These include former secretaries of state Henry Kissinger and George Shultz, Woolsey and William Webster, the head of the FBI at the time of Pollard's arrest, who said that he no longer opposes his release.
Baker's comments came after Netanyahu spoke about an investigative report that revealed that the US intercepted email communication between the Prime Minister's Office and the Defense Ministry from 2008-2009 and that the Americans even spied on then Defense Minister Ehud Barak 's apartment.
"In Israel's close relationship with the US, there are still things that are illicit and that are unacceptable," Netanyahu said Monday at a Likud faction meeting. He also said that he had met with Pollard's wife, Esther.
"For a long time he should have been released. This is understood by everybody here, and I believe that it is also understood by the growing number of listeners in the US," Netanyahu said.
Receive Ynetnews updates directly to your desktop