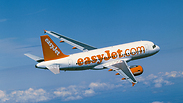 easyJet plane. Israel seen as profitable destination
The low-cost flight market is heating up: easyJet plans to introduce a new route from Israel's Ben-Gurion Airport to Charles de Gaulle Airport in Paris starting in summer 2014, offering six weekly flights.

This will be the ninth route operated by the British airline to and from Israel, and it joins four new routes launched in the past few months to Rome, Berlin, Milan and Gatwick Airport near London. The company also offers flights to Tel Aviv from Basel, Geneva, Manchester and London Luton Airport.

Back to Antalya

After more than five years and in light of security arrangements coordination in local airports, Israeli airlines to start flying to Turkish destinations again this summer

easyJet said in a statement that the new routes are the direct result of the Open Skies agreement signed between Israel and the European Union. According to the company's UK and Middle East Commercial Manager Hugh Aitken, easyJet plans to expand its activity from Israel to any destination offering financial profitability.

Indeed, there appears to be a flood of new routes launched by low-cost European countries, as well as additional flights offered by traditional regular airlines like Lufthansa and Alitalia.

In July, Hungarian low-cost airline Wizz Air announced new routes from Israel to Vilnius (two weekly flights), Katowice (three flights) and Cluj-Napoca (two flights); in September, easyJet announced a new route to Rome with two weekly flights; and in late November, El Al launched its low-cost UP brand, offering flights to five destinations in Europe: Berlin, Larnaca, Kiev, Prague and Budapest.

And that's not all. In the past month easyJet launched a new route to London Gatwick Airport and a route to Milan (three weekly flights each), Lufthansa added three weekly flights to Munich and three flights to Frankfurt, Wizz Air introduced a route to Sofia (three flights) and Alitalia added three weekly flights to Rome.

Why is this happening? For several reasons:
The implementation of the Open Skies policy, according to the agreement signed in early 2013, allows Israeli and European airlines to increase the frequency of their flights.
Low-cost airlines are looking for new destinations to continue their growth, and Israel is perceived as a profitable destination.
If we ignore the events of the past week, Israel has been enjoying a geopolitical calm in recent years, which increases tourists' demand and the number of airlines interested in flying to the country.
Israelis are flying more: From January to November, the number of Israelis' departures abroad, 4.5 million, was 4% higher than in all of 2012.
The US dollar's low exchange rate makes vacations abroad more affordable.

Civil Aviation Authority (CAA) Director Giora Romm, who oversaw the signing of the Open Skies agreement between Israel and the EU, says that "the agreement is based on stages, and so from the moment of the signing the number of flights between Israel and EU countries can be increased.

"As for major destinations like London and Paris, up to seven weekly flights can be added at this stage. As for flights to new destinations, a large number of flights can be added and so companies are already announcing new routes for the summer of 2014."

According to Romm, European destinations will see an addition of 43 flights this summer, a 10% increase.

Israir CEO Uri Sirkis believes that Israeli airlines will be forced to merge in order to survive. "The reform is eroding the income per passenger. Companies will have to make ownership changes, merge or disappear. It's safe to assume that we will see mergers between companies in Israel."

The Open Skies agreement, he says, offers a great advantage for consumers, but a smaller advantage for Israeli companies.

Asked how the low-cost airlines affect Israir's activity, Sirkis says the company is reducing the number of flights to Rome and Berlin and will offer flights to Stuttgart and Munich instead for Black Forest visitors.

"At the same time, we will move to destinations with less competition, like Lisbon and Tbilisi, and in the summer will have special offers for families to fly to Amsterdam and return from Paris, or the other way around."