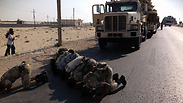 The Egyptian army said Wednesday it had foiled a plan by Palestinian Islamist movement Hamas to attack a strategic security building in North Sinai, where militants have increased activity in recent months.

A member of the movement revealed the plan when the army interrogated him, military spokesperson Colonel Ahmed Ali said in a statement.

Related stories:

Ali said the army arrested "a Palestinian belonging to Hamas who illegally entered Egypt... in a car with North Sinai license plate." During questioning "he confessed he planned to blow up (his car) in front of a strategic security building," Ali said.

In October, Gaza's Hamas Prime Minister Ismail Haniya had denied reports his movement was involved in fighting in the Sinai where militant attacks on security forces have increased since the ouster of president Mohammed Morsi on July 3.

Hamas, which rules the Gaza Strip, is the Palestinian affiliate of the Muslim Brotherhood to which Morsi belongs. Egyptian prosecutors and police accuse the Brotherhood of having links with Hamas and Sinai militants.

Relations between Cairo and Hamas have deteriorated since the Egyptian army's ouster of Morsi on July 3 following massive street protests against his turbulent one-year rule.

Since then, Egyptian troops have destroyed hundreds of smuggling tunnels under the border with Gaza Strip, which supplied the Palestinian enclave with food and construction materials.

Jihadist attacks in the Sinai Peninsula have killed more than 100 members of Egyptian security forces since Morsi's overthrow.

Egypt has poured troops into the mountainous and underdeveloped Sinai to combat the growing militancy while it has waged a crackdown on moderate Islamists elsewhere.
Receive Ynetnews updates directly to your desktop