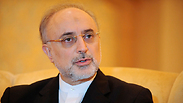 Iran's nuclear chief Ali Akbar Salehi
Photo: Reuters
Iran's nuclear chief said the country is building a new generation of centrifuges for uranium enrichment but that they need further tests before they can be mass produced, apparently trying to counter hard-liner criticism of its nuclear deal with word powers.

Under a landmark nuclear deal reached last month in Geneva, Iran promised not to bring new centrifuges into operation for six months, part of temporary limitations on its uranium enrichment program in return for the easing of some sanctions. But the deal does not stop it from developing centrifuges.

Salehi's comments appeared aimed at showing the country is moving ahead with its nuclear program into order to fend off criticism by Iranian hard-liners, who have denounced the deal, calling it a surrender in the face of Western pressure. The government of new President Hassan Rohani says the deal recognizes Iran's right to enrich uranium.

Related stories:

The United States and its allies accuse Iran of seeking to build a nuclear weapon. Iran denies the charge saying its program is only for peaceful purposes, including power generation and developing medical treatments.

In his comments reported by state TV late Thursday, nuclear chief Ali Akbar Salehi did not elaborate on how long the building and testing would take.

"The new generation of centrifuges is under development. But all tests should be carried on it before mass production," Salehi was quoted as saying.

He also said Iran has a total of 19,000 centrifuges, though he did not say how many were operational. In August, Iran said it had 18,000 including some 1,000 advanced ones centrifuges. Iran previously gave the UN nuclear watchdog information on the new generation of machines.

Iran has long said it is developing more sophisticated centrifuges, which are able to enrich uranium faster.

Under the Geneva deal, Iran agreed to limit its uranium enrichment to 5 percent and neutralize its stockpile of 20-percent enriched uranium.

Enriched uranium can be used to build a weapon if it is enriched more than 90 percent. At lower levels, it is used to power nuclear reactors.