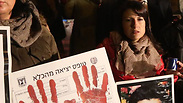 Protesters in J'lem
Photo: Gil Yohanan
Dozens gathered on Saturday in front of the Jerusalem residence of Prime Minister Benjamin Netanyahu to protest against the release of Palestinian prisoners.

Protesters included family members of the prisoners' victims, and carried signs reading "only Israel releases murderers."

Related stories:

Protesters have set up a tent in front of the prime minister's residence last week, and organizers have stated their intention to stage a lengthy sit in, in attempt to prevent the release.

Protesters honor memory of terror victims (Video: Avi Peretz) (צילום: אבי פרץ)





During the sit in, several of the attendees lit candles in memory of terror victims, screening photos of loved ones who were killed by some of the prisoners facing release.

Ortal Tamam, whose uncle Moshe Tamam was kidnapped and murdered during his IDF service, said: "This is our fifth day here. It started from a personal protest of mine. I'm sick of feeling like a stranger in my own country. Public servants who are supposed to represent me are not doing it.

"We've come all the way to the entryway of the prime minister's residence… it seems we will not be able to do more than that, seeing as recurring requests pleading ministers and the prime minister to meet with us have amounted to nothing. We want to send a clear message – the State is changing. We are crying out and will continue to be here, and the fact that people are here to support us is heartwarming."

Meira Stern Glick, whose father's killer is expected to be released in the coming week, said: "The release is causing great distress. I think it's immoral. Murder is murder, and these people are murderers.

"There is a sense of great injustice – someone who killed in cold blood should be given a life sentence."

Stern Glick's father, Prof. Menachem Stern, was stabbed to death on June 22, 1989, as he was walking from his Jerusalem home to the Hebrew University in the capital. His killer, Mahmoud Atta Mouamar, is one of the prisoners set for release in the coming days.

According to Stern Glick, the prisoner exchange deal that allowed the release of Gilad Shalit was just: "I was in support of the Shalit deal. Then they had no other choice, because it was either to release prisoners or give up on the captive soldier. I'll never forget how happy I was the day (Gilad Shalit) came home. But this time, it's immoral, because there were other choices. The government chose that option out of political considerations. I just hope this release won't be in vain."

She nevertheless noted she believed that peace with the Palestinians was important and would therefore not motion the High Court of Justice.

The prisoners' release is one of several gestures Israel has agreed to offer the Palestinian Authority as part of the two entities' peace talks. According to plan, 26 out of 104 Palestinian prisoners whose release was agreed upon prior to negotiations between Israel and the Palestinians, will be freed. Fifty two prisoners have already been released in two rounds in recent months.

Twenty two terrorists, Arab-Israelis and residents of east Jerusalem, are to be released only sometime in 2014.
Receive Ynetnews updates directly to your desktop