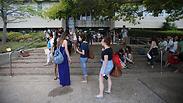 'Boycott of Israeli academic institutions is old-fashioned Jew hatred dressed up with fancy words'
Photo: Yaron Brener
I recently returned from a brief trip to Israel, where I was somewhat put off by how outspoken everyone is. And by everyone, I mean everyone.
One Arab taxi driver called me a stupid donkey, then lectured me, in broken English, about world events. But that's just surface stuff: One has the sense, when walking down just about any Israeli street, that people are going to say exactly what they mean, giving rise to the commonly held belief that Israelis are not the world's most mannerly people.
But so what?
The entire country is a veritable explosion, a volcano of creative, independent thought. Seen any Israeli movies recently? Pro-Israel (or rather, pro-Israeli policies) they're not.
Still, American Studies Association has voted to endorse the academic boycott of Israel, joining the Association for Asian American Studies in its condemnation. Mazel tov! Both of these organizations have targeted what may be the world's most open, democratic, opinionated, and yes, loud-mouthed, academic system - and country - in the world.
Serious Blow
Op-ed: Boycott of Israel will harm Palestinian research and development, but main victim will remain Israel
Free speech? Israel has not one, but eighteen daily papers, and if you think that's not a lot for an entire country, you have to remember that Israel is roughly the size and population of New Jersey. Three of those papers are in Arabic, four in Russian, and one in German. There are also local papers, religious papers, and magazines, not to mention the constant stream of information available on line. More to the point, among this vast outpouring of news, arts and opinion are voices far to the left of the lefty American Studies Association itself, particularly in matters pertaining to the occupied territories, Gaza, and Arab Israelis.
Meanwhile, Israel's eight universities and dozens of colleges continue to produce not only an outsized proportion of medical, scientific and technological breakthroughs enjoyed by the entire world, but – more to the point – continue to educate Jews and Arabs alike. That's a lot of classroom argument, tenure battles, academic infighting, and scholarly reviews.
But getting back to the boycott, let's just call it what it is: Nothing but old-fashioned Jew hatred dressed up with fancy words, a remnant of the conviction that some people have that Jews are inherently bad.
It reminds me of an argument I had some years ago with a British law professor, who explained in a posh British accent that the then-recent IDF incursion in the Palestinian city of Jenin was "another Holocaust." Except that in the case of Jenin, 37 known terrorists were killed in hand-to-hand combat, whereas in the Holocaust six million civilians were murdered. When I asked him why he wasn't equally incensed by non-citizenship of old Korean families in Japan, or the so-called Gujarat pogrom, in which hundreds of Indian Muslims were slaughtered, or Tiananmen Square, or repression and torture in Korea, he went back to his original thesis.
In my own view, Israel's policies – like those of the UK, the US, France, and other members of the democratic west – are deeply flawed, sometimes even immoral. But to single it out for condemnation as the American Studies professors have done is not only shameful, but proof – as if the world needs it – that the existence of Israel as a nation in which Jews refuse to be victimized is as urgent as it's ever been.