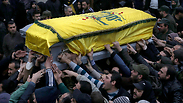 Funeral of Hezbollah senior official
Photo: AP
As the war in Syria presses on, Hezbollah 's involvement continues to claim lives, so far reaching a death toll of some 300 operatives, according to estimates of Israeli intelligence sources.

An official with the IDF 's Intelligence Directorate noted that Iran was still supplying ammunition to the Shiite group, stressing that Hezbollah chief Hassan Nasrallah is expected to continue to support Syrian President Bashar Assad.

Related stories:

"Hezbollah's resources are being damaged," the official said. "According to our estimates over 300 of the organization's operatives were killed so far, including those whose deaths were not reported.

"Furthermore," the official added, "thousands of the organization's members are working for Assad, including top commanders."

Hezbollah leader Nasrallah."Resources are being damaged" (Photo: AFP)

According to the source, however, Lebanon and other Arab nations are against Hezbollah's involvement in the Syrian war."

He added that Hezbolla's assistance to the Syrian regime is compromising Lebanon's stability and that a million Syrian refugees storming Lebanon have brought about financial constraints.
Syria death toll soars
Beyond Hezbollah deaths, the number of fatalities among Syrians is on the rise. A Syrian activist group said Sunday more than 500 people have been killed in the government's two-week aerial assault on opposition-held areas of the northern city of Aleppo and its suburbs.
President Assad's aircraft have pummeled rebel areas of the divided city since December 15, often with crude barrel bombs that cause massive damage upon impact.
The Britain-based Syrian Observatory for Human Rights said Sunday the aerial campaign killed at least 517 people, including 151 children and 46 women, as of midnight Saturday.
The Observatory monitors the conflict through a network of activists on the ground.
The Syrian government hasn't commented on the campaign.
AP contributed to this report
Receive Ynetnews updates directly to your desktop