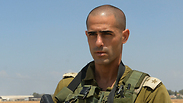 CO Roei Levi
IDF Spokesperson
Exposing explosive devices, operating in the Syrian border and coming up with the idea to establish a field hospital for wounded from the neighboring civil war are what earned the Reconnaissance Regiment of the Golani Brigade the prestigious Chief of Staff's Award.

The prize will be presented by Chief of Staff Lieut. Gen. Benny Gantz at an award ceremony for the outstanding units of 2013 in the Kirya Compound in Tel Aviv on Monday evening. The regiment will receive a NIS 50,000 ($14,000) prize, which will be used for social activities for the soldiers.

Related stories:

The commanding officer of the regiment, Lieut. Col. Roei Levi, told Ynet that already at the beginning of the year, his unit found and destroyed explosives that terrorists had placed on the border of the Golan Heights.

He also said that the unit was forced to undergo drastic changes due to the new operational reality on the border in the north due to the Syrian civil war.

"We undertook a variety of special operations – ambushes, reconnaissance to gather intelligence, mine laying, anti-tank drills – that never reached the media," he said. "When the first Syrian wounded reached Israeli territory at the beginning of the year we didn't ask who they were, we just started treating them due to our value system."

As it turns out, the initiative to establish a field hospital for Syrian wounded came from the Reconnaissance Regiment's officers' requests and the Medical Corps.

In the past six months, the regiment was deployed in the south, next to the Gaza Strip. The lieutenant-colonel said his soldiers could see Hamas's uniformed police officers controlling the Palestinian crowd trying to enter Israel territory.

"Almost every week we fired exact warning shots next to the Palestinians who were running to the fence who were trying to test us, and there were also times where we found explosive devices and had to neutralize them."

The haredi regiment "Netzach Yehudah," part of Kfir Brigade, came in second place, as it stood out in its operational activities in the Jenin region by foiling several terror attacks, aside from other successful engagements with terrorists. Most of the soldiers receive special service benefits due to their low economic status. Third place was given to the Flying Camel air squadron, which operates unmanned long- and short-range observation planes.

The Paratroopers Brigade won the top brigade prize of the year, Menashe (Jenin) Regional Brigade finished second and the Southern Regional Brigade operating within the Gaza Division finished third.
Receive Ynetnews updates directly to your desktop