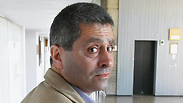 Doron Zahavi AKA Capt. George
Photo: Shaul Golan
After years of secrecy, Capt. George, the man claimed to have abused Hezbollah's head of security Mustafa Dirani, will no longer hide behind his fake identity.

The Tel Aviv District Court authorized the publication of the masked man as Doron Zahavi, married and a father of three, who is living in the central area of Israel. Zahavi served in Intelligence's 504 Unit, where he was privy to many secret missions, including the investigation of Dirani.

Related stories:

Zahavi is currently employed by a security organization, which is not related to the IDF.

Zahavi's lawyer, Efi Naveh, said they decided to ask to remove the gag order on Zahavi's details because his real identity was known anyways within his immediate environment. Naveh also said that his details were on the internet, and thus there was no real reason for the gag order to remain in place.

"Zahavi wants to be revealed to the public," his lawyer said. "He wants to openly give his version of the story so that the public can hear it and give its impressions."

Capt. George was Mustafa Dirani's main investigator. He was charged with being responsible for the abuse and rape of Dirani. Later on, Capt. George filed a damages claim against the State of Israel and the Defense Ministry for NIS 5.5 million ($1.6 million), saying they ruined his name because he wasn't responsible for those actions but rather his commanding officers gave him the orders.

Dirani was kidnapped and brought to Israel from Lebanon in 1994 as a negotiating trump card to obtain information on the MIA Israeli navigator, Ron Arad . Dirani was released as part of an exchange in 2004, when Israel received businessman Elhanan Tannenbaum and the bodies of three soldiers in return.
Receive Ynetnews updates directly to your desktop