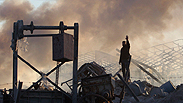 IDF strike in Gaza (Archive)
Photo: Reuters
The IDF launched airstrikes on three Gaza Strip targets. Military sources reported that rocket launchers and observation posts were destroyed.

The strikes, the sources noted, were in retaliation for Palestinian rocket fire on Israeli territory.

On Thursday evening a Qassam rocket was launched from the Gaza Strip and exploded in an open area at the Sdot Negev Regional Council.

The rocket hit away from residential area and a color red alert was therefore not activated. No injuries or damage were reported.

On Monday a rocket exploded between two residential communities in the Shaar Hanegev Regional Council. No injuries or damages were reported.

Prime Minister Benjamin Netanyahu and Defense Minister Moshe Ya'alon vowed to retaliate any attack from the strip. "We will strike those who open fire and strike those who advocate them. No one will be immune," Netnyahu said last week.

The IDF stated that "Terror groups in the strip have set a goal to harm Israeli citizens. The IDF will continue to work diligently and as much as it takes against any source that executed terror against the State of Israel."

The IDF statement added: "The terror group Hamas is the address and it is the accountable entity."