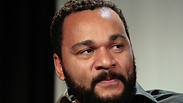 Dieudonne. 'He unites anti-Semites from all sides'
Photo: AFP
VIDEO - A Nazi-hunting family has called for protests against controversial French comedian Dieudonne over his vitriolic brand of humor targeting Jews, as a government minister said he must pay fines accrued for racist abuse.

France's Interior Minister Manuel Valls is training his sights on Dieudonne, whose trademark gesture is viewed as being Nazi-inspired, and is examining options to try to legally block performances by a man he brands a "little trader of hate."

Video courtesy of jn1.tv

On Friday, Valls vowed to ensure that Dieudonne, 47, would have to pay the €65,000 ($88,500) he has run up in fines.

Since 2000, Dieudonne has been fined seven times for defamation, using insulting language, hate speech and racial discrimination.

Anti-Semitism

Op-ed: 'Quenelle' gesture is not a popular sign of contestation; it is the indicator of a modern form of violent anti-Semitism building up in France

Valls said Dieudonne would be "forced to pay" and that "nobody is above the law."

Dieudonne's inverted down-arm salute, seen as Nazi-style, shot into the limelight again this week after his friend, French football striker Nicolas Anelka, used it to celebrate a goal in Britain.

The comic insists the gesture is not anti-Jewish and merely reflects his anti-establishment views. But the on-field sign sparked a media storm and Anelka agreed not to repeat it.

Veteran Nazi hunters Serge and Beate Klarsfeld want people to "rise up" to protest against Dieudonne.

Along with their son Arno, they will be present at a theatre in Nantes, western France, next Wednesday, where the bearded comedian is due to perform the following day.

"The three of us are going to Nantes," Arno Klarsfeld told AFP.

"It is legitimate and normal when someone makes anti-Semitic speeches and says that not enough Jews were gassed in the gas chambers, that people rise up to protest," he said.

"People who go to see Dieudonne go there to hear Jew-bashing," said Klarsfeld.

"He unites anti-Semites from all sides. They are Islamists, ultra-left or far-right.... His shows are anti-Semitic political rallies."

Klarsfeld thanked Valls for taking up the issue.
'Domination of Zionists'
Mayors in several towns where Dieudonne is due to play, including Marseilles, Limoges and Nantes, have called for the performances to be banned
By the start of the week most of the 5,000 tickets available for the Nantes show, which kicks off his latest tour, had been sold, according to the Zenith theatre where he is due to perform.
The controversy his tour is provoking is a far cry from the comedian's early career when he teamed up with Jewish comic Elie Semoun in sketches that tackled racism and slavery.
Semoun now accuses Dieudonne of stealing his ideas and transgressing all borders of decency and good taste.
The controversy comes at a sensitive time for Paris.
In a New Year's address, President Francois Hollande pledged to be "intransigent" on racism.
The French-born son of a Cameroonian father and a white mother, Dieudonne M'Bala M'Bala has described Holocaust celebrations as "memorial pornography", made "Heil"-like signs on television as part of a sketch and befriended far-right leaders such as Jean-Marie Le Pen.
Dieudonne decries what he calls the "domination of Zionists" in Western societies and the overemphasis on the horrors of the Holocaust to the exclusion of other crimes, like slavery and racism.