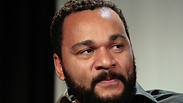 Dieudonne. 'Developing a nearly professional anti-Semitism under the cover of telling jokes'
Photo: AFP
France is considering banning performances by a black comedian whose shows have repeatedly insulted the memory of Holocaust victims and could threaten public order, Interior Minister Manuel Valls said on Friday.

He said his ministry is studying legal ways to ban shows by Dieudonne M'bala M'bala, a comedian repeatedly fined for hate speech who ran in the 2009 European Parliament elections at the head of an "Anti-Zionist List" including far-right activists.

Violent Response

French police arrest activists of right-wing Jewish organization on suspicion of assaulting two men tracked down on social networks for performing anti-Semitic gesture

Valls announced the move after Jewish groups complained to President Francois Hollande about Dieudonne's trademark straight-arm gesture, which they call a "Nazi salute in reverse" and link to a growing frequency of anti-Semitic remarks and acts in France.

"Dieudonne M'bala M'bala doesn't seem to recognize any limits anymore," Valls said in a statement announcing the legal review aimed at banning his public appearances.

"From one comment to the next, as he has shown in several television shows, he attacks the memory of Holocaust victims in an obvious and unbearable way," he said.

France has Europe's largest Jewish minority, estimated at about 600,000, but also sees a steady emigration to Israel of Jews who say they no longer feel safe here.

In the worst recent anti-Semitic incident, a French Islamist killed a rabbi and three pupils at a Jewish school last year in the southwestern French city of Toulouse.
Gesture goes viral
Dieudonne, as he is known on stage, has responded to the criticism from prominent Jewish figures by threatening to sue them for linking his gesture – a downward straight arm touched at the shoulder by the opposite hand – to the Hitler salute.
He calls the gesture "la quenelle" – the word for an elongated creamed fish dumpling – and says it stands for his anti-Zionist and anti-establishment views, not anti-Semitism.
The gesture has gone viral on social media recently, with mostly young fans displaying it at parties and sports events. Some do it while in the audience at live television shows.
Two soldiers were sanctioned by the army in September for making the gesture in uniform in front of a Paris synagogue.
"It's the Nazi salute in reverse," Roger Cukierman, head of the CRIF umbrella group of Jewish organizations, said after complaining about it to Hollande last week.
"Very clearly, Mr. Dieudonne is developing a nearly professional anti-Semitism under the cover of telling jokes."
Dieudonne, 46, Paris-born son of a Cameroonian father and French mother, began his comedy career with a Jewish sidekick in the early 1990s and appeared in several films.
Originally active with anti-racist left-wing groups, he began openly criticizing Jews and Israel in 2002 and ran in the European elections two years later with a pro-Palestinian party.
He has been fined several times in France for defaming Jews. Police broke up his one-man-show in a Brussels theatre last year for suspected anti-Semitic hate speech, but he was not convicted.
When Radio France's Patrick Cohen asked on air last week if the media should pay so much attention to him, Dieudonne suggested the journalist should get ready to emigrate.
"When I hear Patrick Cohen speaking, I say to myself, you see, the gas chambers ... too bad," he said.