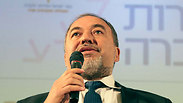 אביגדור ליברמן ב כנס שדרות לחברה מכללת ספיר
Photo: Doron Greenwald
As US Secretary of State John Kerry's shuttle diplomacy with Israel and the Palestinians entered its fourth day Sunday, Foreign Minister Avigdor Lieberman said he would oppose any peace deal if it includes the right of return "for even one" Palestinians.
Speaking at a Foreign Ministry conference for Israel's senior diplomats, Lieberman warned that some three million refugees would want to immigrate to the Palestinian state that would be established, and if Israel agreed to the right of return, it would face international pressure to take it at least some of that number.
Nevertheless, the foreign minister said, he had great appreciation for US Secretary of State John Kerry's efforts to advance peace talks between Israel and the Palestinians, and end the conflict between them. He also raised his previous suggestion of a land and population exchange with the Palestinians, clarifying that he envisioned the transfer of predominantly Arab "Triangle" of communities and Wadi Ara, a main artery between central and northern Israel, in return for settlements in the West Bank.
Related stories:
The Palestinians have refused to drop the demand for the right of refugees from 1948 and their descendants, now numbering some five million people, to return to their former homes inside what is now Israel. Any actual return under a peace agreement would likely consist of a symbolic number of people, and a significant amount of compensation. Palestinian President Mahmoud Abbas said in 2012 that he did not expect to return to his birthplace of Safed.
Meanwhile, another senior Israeli official spoke out Sunday on the details of the peace agreement being brokered, even though such details have to date been kept out of the public realm.
Israel rejects any US-proposed security concessions for the Jordan Valley, said Intelligence Minister Yuval Steinitz, the former finance minister who is considered an ally of Prime Minister Benjamin Netanyahu.
"Security must remain in our hands. Anyone who proposes a solution in the Jordan Valley by deploying an international force, Palestinian police or technological means ... does not understand the Middle East," Steinitz told Israel Radio.
The Jordan Valley has become a bone of contention recently, with the Ministerial Committee on Legislation last week approving a bill to annex the area, thereby ensuring that the region remains within Israeli sovereignty even if an agreement is reached with the Palestinians. Both Jordan and the Palestinians have responded angrily to the proposal.
AFP contributed to this report