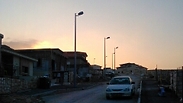 Residents of Bnei Dekalim, which was established after the 2005 Gaza Strip disengagement, have been subject to a wave of break-ins and thefts in the past months, but are more worried about potential terrorist infiltrations.

The township, founded by locals of Neve Dekalim, who were forced to leave the Gush Katif settlements more than eight years ago, have put the blame on the lack of lighting in its streets. The area has now been over six months without lights outside.

Related stories:

The Lakhish Regional Council has deferred the issue to the Electric Corporation, and the latter in turn has pointed its finger back to the council.

There are light fixtures outside, but they're not connected to the electricity. Residents say that come nightfall, they're forced to shut themselves inside their houses. Last week, there was a break-in in a newlyweds' house. The couple had gone to their relatives for dinner, and when they returned they saw that they were missing possessions.

"Who could have seen them in the darkness we're living in," resident Meirav Zohar said. "It's ridiculous. The settlement is under curfew at nightfall."

Residents say this is not the first time there was illegal entry into the area, and they're saying that Palestinians from nearby villages in the West Bank who are responsible.

One man from Bnei Dekalim said he was worried about possible terrorist attacks.

"We're right in the middle of the infiltration path that extends the entire length of the Green Line," he said. "The terrorists that pulled off the Bat Yam bombing also passed by here."

The darkness, he said, doesn't give anyone a chance to see infiltrators. "We're desperate," he said. "The residents are living in fear. There's a threat to life here."

On Sunday, residents of Bnei Dekalim asked Knesset Member Zvulun Kalfa (Habayit Hayehudi) for help, and he in turn spoke with the regional council leader.

"There will continue to be a grave danger if there is any delay in providing lighting in the streets," the MK said. "We are working with the relevant bodies in order to fix this issue as soon as possible."

The Lakhish Regional Council refused to comment on the incident.