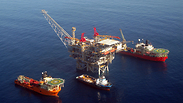 Israeli offshore drilling
Photo: Albertos
Palestine Power Generating Company has become the first company to sign a contract with the Leviathan Gas Field.
The agreement will supply the Palestinian energy company with $1.2 billion worth of natural gas in order to generate electricity from a power station that it will establish next to Jenin.
The gas reservoir west of Haifa, owned in part by Israeli companies Delek Drilling, Avner Oil and Gas and Ratio Oil Exploration, and which will be operated by plurality shareholder American company Noble Energy, contains about 550 billion cubic meters of natural gas. Over the course of 20 years, 4.75 billion cubic meters will be sold to the Palestinian company.
Sea Change
Natural gas deposits aimed at replacing 60 percent of oil use in Israel by 2025, as switching from oil could bring consumer savings, tax income to add another percentage point to GDP
The deal was signed in the American Colony hotel in Jerusalem. The controlling shareholder of Delek Drillings, Yitzhak Tshuva, said economic deals between the Israelis and Palestinians would only help advance the need for peace.
"Peace is a cooperative deed, done through economic cooperation, respect and mutual faith," he said. "Cooperative economic agreements, such as the one signed today, will help bring the two nations closer and will contribute to building to the base to peace."
Noble Energy CEO Lawson Freeman said his company welcomed the historic agreement, Leviathan's first.
"We hope to reach a state where we can sign more gas contracts with local customers," he said. "We're looking forward to seeing the development of Leviathan in the near future."