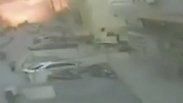 Hezbollah-affiliated Al-Manar network aired footage of last week's explosion in a southern suburb of Beirut that killed five people.

The blast hit the Haret Hreik neighborhood, considered a Hezbollah stronghold, but no operative of the Lebanese organization was injured.

Blast rocks Lebanese town

Over the past few months, dozens were killed and hundreds sustained injuries in terror attacks in Lebanon, estimated to be executed by Sunni militants who seek revenge for the Hassan Nasrallah's organization's involvement in the war in Syria.