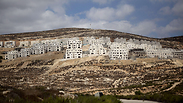 West Bank settlement
Photo: AFP
Israel has summoned the Dutch ambassador after PGGM of the Netherlands, one of the world's largest pension asset managers, divested from Israeli banks over their financing of settlements.

Israel's Foreign Ministry said in a statement Friday that it had asked Ambassador Caspar Veldkamp for a "clarification."

Related stories:

Foreign Ministry's deputy director-general for Europe Rafi Schutz said to Veldkamp that the decisions being made to boycott Israel are not acceptable and are based on "false claims." He said he expected the Dutch government to express an unequivocal stance against any boycotts.

Politicians in Jerusalem are trying to downplay the cries in Europe for sanctions on Israel. But they're worried, despite the Dutch minister's expression that the Netherlands is completely against both West Bank settlement building and sanctions against Israel, that 2014 is expected to be worse than the previous year.

"As of today, Israel is in an unstable and delicate political place than what it was in 1948," a high-ranking official told Ynet. "Netanyahu's actions are bringing upon us sanctions and boycotts."

Prime Minister Benjamin Netanyahu himself is also quite troubled with these issues and continues to address them. Just recently he worked fiercely to prevent the removal of Israel from the prestigious Horizon 2020 project.

On Wednesday, PGGM said it divested from five Israeli banks because they are involved in financing construction in Jewish settlements.

Some 550,000 Israelis now live in settlements in the West Bank and east Jerusalem, areas captured by Israel from Jordan in the 1967 Mideast war, and which the Palestinians demand for their state.

The fate of the territory is a main focus in US-mediated peace talks.