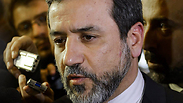 Iran and the EU have found solutions to all their disagreements after talks on how to implement a deal on containing Tehran's nuclear program, Iranian deputy chief negotiator Abbas Araqchi said Friday.

"We had two days of good, constructive and intense negotiations in which we made good progress," Araqchi was quoted by state television as saying at the end of two days of talks in Geneva.

"We found solutions for all the points of disagreements, but the implementation of the Geneva agreement depends on the final ratification of the capitals."

Araqchi had been meeting with Helga Schmid, deputy to EU foreign policy chief Catherine Ashton, whose office represents the so-called P5+1 group of world powers - Britain, China, France, Russia and the United States plus Germany - in the negotiations.

He said the "foreign ministers (of involved) countries will issue a statement," adding that no further meetings at expert level are planned for the moment.

He stopped short of giving a date for implementing the deal, saying that depends on a decision by the other parties.

Under the November deal, Iran agreed to curb parts of its nuclear drive for six months in exchange for receiving modest relief from international sanctions and a promise by Western powers not to impose new measures against its hard-hit economy.

Negotiators have said they want to implement the deal by January 20.

Western powers and Israel fear Iran is seeking to develop the atomic bomb under the guise of a civilian nuclear program, but Tehran has always denied this.