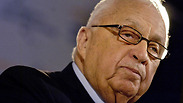 Ariel Sharon - father of Israeli political center
Photo: Reuters
Leader, warrior, national grandfather, prime minister and even war criminal. Former prime minister Ariel (Arik) Sharon will be remembered by many in many ways.

His military prowess made him famous, his disregard for the rules infamous and his decision to pull Israel out of Gaza a legend, but few outside of Israel remember him as the unlikely father of the Israeli political center.

Following his overwhelming defeat in the 1999 elections, Benjamin Netanyahu resigned the Likud leadership, and Sharon was elected as his successor in Israel's right-wing party.

Related stories:

In 2001, with the Likud under his control, General Sharon ran against Ehud Barak in a special election for prime minister, and won by a landslide. Sharon was still the epitome of the Israeli rightwing: Militant, headstrong and unabashedly opposed to the land-for-peace formula.

But after two years of a brutal and bloody intifada, which left more than 4,000 Palestinians and Israelis dead, Sharon began to promote his plan for unilateral Israeli disengagement from the Gaza Strip.

The plan swayed neither to the left nor right: On the one hand it called for the uprooting of Israeli settlements, settlements Sharon himself had built as housing minister, yet it wasn't leftist: its underlying rationale was not one of dialogue and peace, but rather a unilateral "disengagement" from the Palestinian people – a severing of a rotting umbilical cord, not an end to the occupation.

More importantly, the plan was primarily concerned with Gaza, and not with the West Bank.

Against all odds, and despite a severe internal crisis within the Likud, the Disengagement Plan took place in August of 2005; eight thousand settlers were removed from Gaza, and their homes demolished. In the aftermath and the not unexpected political fallout, Sharon announced his departure from the Likud to establish a new party – Kadima , or Forward.

The rationale behind the party's formation was both ideological and political: Sharon had come to understand that he would not be able to realize his vision for the region through the Likud – yet it was obvious that he had no viable home in the Labor party that he despised, and which despised him just as much.

Pulling moderates from the Likud and disgruntled Labor MKs – among them current President Shimon Peres - Arik created ex nihilo a centrist party based around the premise of unilateral disengagement from Palestinians, a vaguely liberal ideology and a capitalistic agenda.

While it was far from being Israel's first centrist party, Kadima succeeded where others had failed, overcoming classic political and ethnic fault lines and consolidating a constituency underrepresented on either the right or the left; both in terms of economy and security.

Unlike its political predecessors Shinui (Change) and before that Dash, which ran on a strong liberal and anti-religious agenda and failed to step beyond the niche of wealthy Ashkenazi voters, Kadima managed to pull in right-wing Sephardic votes - at the expense of the Likud - as well pragmatic and free-market oriented Labor voters.

Riding on Sharon's political and military clout, Kadima managed to present a viable alternative to the classic left-right (Likud-Labor) divide. It allowed the middle class to vote for a two-state solution, without compromising on security. It was a peace-oriented jingoism of sorts.

Thus, Sharon, the man who always got his way, cashed in on a crisis of representation and facilitated a new type of politics in Israel – one unbound by international demands or messianic land-grabs.

Kadima's impressive success in the elections after Sharon's collapse consolidated the center as a long-term presence in the Israeli political scene; not so much as any specific party, but as a political force to be reckoned with.

And although Kadima failed to follow up on its 2006 victory, and its power seemed to slowly ebb away, the modest success of Tzipi Livni 's Hatnua and the massive win by Yair Lapid's Yesh Atid give weight to the belief that there is a large number of Israelis still in search of a political home.

Lapid managed to pick up the votes that Livni and her Kadima successor Shaul Mofaz lost, but the pool of voters over which they're fighting is Sharon's doing. Thanks to Sharon, a new constituency has been born in Israel.