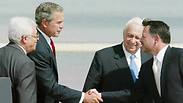 Sharon with US President Bush, Jordan's King Abdullah and Palestinian President Mahmoud Abbas
Photo: Reuters
The late Kamal Hassan Ali, Egypt's last "war minister," was not afraid to say with surprising sincerity that he admired Ariel Sharon. "It's the enemy," he told me on a certain occasion, "that we learn to respect, suspect and deal with."

Field Marshal Ali further told me that Egypt's military academies dedicate a special chapter to the constitutive event of the Yom Kippur War, to reenact how Sharon with the "seam line breach" torpedoed Egypt's great victory fraud.

Reactions

Newspapers, websites in Middle East call former leader 'criminal,' 'perpetrator of Sabra and Shatila Massacre.' Gazans flock to streets to burn his picture, give out candies

"Courage, force and unrestrained cunning is what we instill in our soldiers on behalf of Sharon," revealed the man who fought against him three times. Hosni Mubarak, on the other hand, who owes Sharon his promotion to the position of vice president following that war, held a grudge against him over the years and was overly suspicious towards him, but trained himself to show respect to Sharon the enemy.

The Jordanian royal court had a bitter score to settle with Sharon too, until he corrected himself with a public statement that "Jordan is not Palestine," and insisted on proving to King Hussein that he was not plotting to banish the Palestinians from the West Bank and the Strip over to him.

In one of their private conversations, Sharon pulled out a sheet of paper and, in front of the surprised king, sketched the upper bridge he had planned in his mind's eye to connect between the West Bank and the Strip, "without them drawing closer to us, in Israel, and without them succeeding to infiltrate your territory."

Hussein immediately updated Cairo, and to those monitoring the situation from the side it was clear that as far as the Jordanian and Egyptian rulers were concerned, this was a sophisticated "scheme" created in Sycamore Ranch which they must prepare for.

By the way, Sharon's strong opinion about Arafat was not far from the negative accounts going around the palaces of Amman, Cairo and Damascus and in Beirut.

The news about Sharon's death spread quickly across the Arab world on Saturday. Although he has not been with us for the past eight years, there is no need to introduce him to the young generation of the square protests. When you say Sharon, you say you won't count till 10 before using power on the Israeli side if the other side tries to outsmart you. And yet, it was clear that they would rehash the issue of the Sabra and Shatila massacre in Lebanon, mention the tail wind he gave the settlers and won't leave out the visit to the Temple Mount and the second intifada.

The decision makers' palaces on the Arab side made sure over the years to cautiously examine every statement made by Sharon. A senior Egyptian intelligence official received a special mandate to arrange for himself a direct connection to Sharon, to his advisors and to members of the "forum of the ranch." At a certain occasion, when his leader was furious at Sharon over the Palestinian issue, they made sure to publish a cartoon of Sharon nibbling on Palestinian corpses, "and as far as we're concerned, your ambassador can explode with anger and file as many protests as he wants."

Sharon, on his part, had a solid, devious outlook about the neighbors. I remember how he enjoyed speaking about the order to keep the president's secretary in Cairo on the line for many minutes, how he abused the Egyptian intelligence chief with a minor hot dog as a refreshment at Sycamore Ranch, how a secret visit of the Jordanian king was intentionally leaked.

On Saturday, a minister in an Arab government, which does not sustain open relations with us, dwelled upon three things he would remember as Sharon's legacy: How he swore to never abandon civilians and IDF soldiers "with the enemy," how he made it clear that "we only rely on ourselves" and how he brought about the disengagement from Gaza. He also surprised, he also caused pain, the Arab minister concluded, and he also failed to complete it.