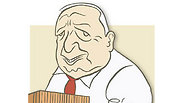 Ariel Sharon
Yedioth Ahronoth archive
September 7, 1973
In the days of the founding of the Likud, which united several right-wing movements, initiated by Ariel Sharon and led by Menachem Begin, the journalist Shlomo Nakdimon described the establishment of the new party as a complicated front of personal relationships and conflicts of interest.
December 1974
Sharon was elected as a member of Knesset in the new party of Likud in December 1973, after the Yom Kippur War, but just a year later he resigned and returned to the IDF.
June 1975
Prime Minister Yitzhak Rabin appointed Sharon to be his general affairs consultant. Defense Minister Shimon Peres and IDF Chief of Staff Mota Gur said they were doubtful Sharon would be successful. The claim at the time was that Rabin used the appointment to downplay Peres, and Rabin said he had become too popular for his liking.
April 1982
A day before this political cartoon was published, activists of Peace Now hassled a Nahal Brigade ceremony in protest that it was being held over the Green Line. At a reform Judaism movement outpost, soldiers blocked the activists access to the ceremony and a small skirmish transpired during Defense Minister Sharon's speech.
June 1982
The IDF was making its way to Beirut during the First Lebanon War. It made to Beirut in six weeks, putting it under siege with most of it being captured and the airport being destroyed. There were 368 IDF soldiers and more than a thousand PLO terrorists killed.
July 1984
The British media reported that Scotland Yard was investigating Israel's relations with Nigeria after two Mossad agents were arrested for allegedly kidnapping the Nigerian transportation minister in a crate. At the same time there were claims that the Likud was trying to hide Sharon at all costs, who had become the symbol of the failure of the Lebanon War, trying to keep his public profile low.
April 2001
A month after being elected prime minister, Sharon was forced to wake up and understand that he couldn't bend the reality to his wishes , Yedioth columnist Eitan Haber wrote.
August 2005
The day before the end of the withdrawal from Gaza. Ministers Limor Livnat, Yisrael Katz, Dan Naveh, Uzi Landau, Effi Eitam and Tzachi Hanegbi, who opposed the plan, couldn't bring Sharon down.
August 2005
Benjamin Netanyahu resigned from Sharon's government due to the Gaza withdrawal plan. He said that he feared a terror center being established in Gaza, while others claimed that he resigned for political gains.
August 2005
A survey after the Gaza withdrawal said 54% of Israelis wanted a peace plan and were willing to remove settlements from the West Bank. There was 68% in support of removing illegal outposts.
August 2005
Days after the Gaza withdrawal.