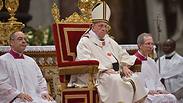 Pope Francis on Monday called for renewed political will to end the conflict in Syria and lamented a "general indifference" to the plight of refugees around the world.

In his first "State of the World" address to diplomats from 180 countries accredited to the Vatican, Francis also spoke of his concern over violence in Lebanon, Iraq, Egypt and parts of Africa.

Related stories:

"What is presently needed is a renewed political will to end the conflict," the pope said of the civil war in Syria which has killed more than 100,000 people, forced more than 2 million to flee abroad and displaced another 4 million inside the country.

"At the same time, full respect for humanitarian law remains essential. It is unacceptable that unarmed civilians, especially children, become targets," he said.

In his yearly address, the head of the 1.2-billion-member Roman Catholic Church said he hoped the Geneva 2 conference due on Jan. 22 under UN auspices "will mark the beginning of the desired peace process."

He lamented that many people in the Middle East and Africa were living as "refugees in camps where they are no longer seen as persons but as nameless statistics".

The world had forgotten those who risked their lives in rickety boats to seek a better life in Europe, he said.

In October, 366 Eritreans drowned in a shipwreck near the Italian island of Lampedusa. Sea arrivals to Italy from north Africa more than tripled in 2013, fuelled by Syria's civil war and strife in the Horn of Africa.

"Sadly, there is a general indifference in the face of these tragedies, which is a dramatic sign of the loss of that sense of responsibility for our brothers and sisters on which every civil society is based," he said.

The pope also spoke of his concern that conflicts in the Middle East and north Africa were fuelling "an exodus of Christians" fleeing because of fears for their safety.

Christians now comprise 5 percent of the population of the Middle East, down from 20 percent a century ago. According to some estimates, the current population of 12 million Christians in the Middle East could halve by 2020.

Francis made another appeal for respect for the environment. Quoting a popular saying in his native Argentina, he said: "God always forgives, we sometimes forgive, but when nature - creation - is mistreated, she never forgives."