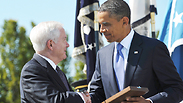 Gates and Obama
Photo: AFP
Former defense secretary Robert Gates had such disdain for Prime Minister Benjamin Netanyahu that he even tried to have him banned from the White House, Bloomberg columnist Jeffrey Goldberg quotes Gates as saying in his new memoir.

"I was offended by his glibness and his criticism of U.S. policy - not to mention his arrogance and outlandish ambition - and I told national security adviser Brent Scowcroft that Bibi (Netanyahu) ought not be allowed back on White House grounds," Gates reportedly claims in his autobiography, "Duty: Memoirs of a Secretary at War".

Related stories:

In his new book, Goldberg says, Gates expresses concern for Israel's future, in particular due to the policies of the current government. Gates, a CIA veteran, left office in 2011 after a five-year tenure that saw him serve both Barack Obama and his Republican predecessor, George W. Bush.

"I, as a very strong friend and supporter of Israel, believe Jerusalem needs to think anew about its strategic environment," Goldberg quotes Gates as saying.

"That would require developing stronger relationships with governments that, while not allies, share Israel's concerns in the region, including those about Iran and the growing political influence of Islamists in the wake of the Arab Spring. … Given a Palestinian birthrate that far outpaces that of Israeli Jews, and the political trends in the region, time is not on Israel's side."

This is latest in a series of criticisms Gates has had when it comes to Israel's relationship with the US. In September 2011, Goldberg reported that Gates had lambasted Netanyahu for his policies, accusing him of ingratitude towards the US, and warning that he was in danger of isolating Israel on the international stage.

According to Goldberg, Gates said that not only was Netanyahu ungrateful, but his polices were "endangering his country by refusing to grapple with Israel's growing isolation and with the demographic challenges it faces if it keeps control of the West Bank."

Tensions between Netanyahu and Obama have been widely reported in the Israeli and foreign media. Both leaders have sought to mend fences in recent years. Obama visited Israel in March 2013, and sent his vice president to Israel this week for the funeral of former prime minister Ariel Sharon.