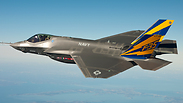 F-35 multi-role fighter jet
Photo: Gettyimages
WASHINGTON - A US-Iranian engineer was arrested at Newark International Airport while attempting to smuggle secret documents to Iran – among them the blueprint for the coveted F-35 multi-role fighter jet, which Israel is set to receive in 2016.

Mozaffar Khazaee, a former US defense contractor employee, was arrested on January 9 at Newark International Airport in New Jersey following the first leg of his flight to Tehran via Germany.

Khazaee, who was naturalized in 1991, state-run Russia Today (RT) reported, was charged with "transporting, transmitting and transferring in interstate or foreign commerce goods obtained by theft, conversion, or fraud." According to RT, he faces a maximum of 10 years in jail.

Related stories:

In November US customs officers inspected a shipment Khazaee had sent from Connecticut to California intended to eventually reach Hamadan, Iran, ABC reported.

The shipment, which Khazaee had listed as containing "books and college-related items, two suitcases, a vacuum cleaner and some other items," in fact held "thousands of pages contained in dozens of manuals/binders relating to the JSF (F-35 Joint Strike Fighter) program."

Quoting an affidavit, ABC reported that he had visited Iran some five times in recent years.

Reports said that Khazaee had been employed for different air defense contractors. According to ABC, a spokesperson for Pratt & Whitney, a contractor specializing in fighter jet engines confirmed that Khazaee was recently an employee. Pratt & Whitney is "fully cooperating with law enforcement and will support the government's investigation in any way necessary."

The F-35 is the most expensive fighter jet in the history of warfare, costing the American government some $400 billion to develop. The jet is expected to replace the majority of US military aircraft across the military branches.

Israel has already pre-ordered some 19 F-35s for around $2.5 billion. Last year, Reuters reported that the Pentagon reached an agreement with Lockheed Martin Corp on a $450 million program to enhance electronic warfare equipment on the F-35 fighter jet, and integrate Israeli-unique systems beginning in 2016.

The deal marked a big step forward for Israel's agreement to buy the F-35 jets, which was signed in October 2010 and includes options for up to 75 of the radar-evading fighters.