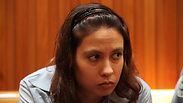 Anat Kam
Photo: Gil Yohanan
Anat Kamm, the former IDF soldier jailed for passing classified military documents to an Israeli newspaper, is set to go free by the end of the month, after her appeal for early release was approved by the Israel Prison Service.
The Prison Service parole board said Thursday that Kamm's behavior in jail was considered commendable, and thus she would be released in the near future. Kamm is expected to be released in 10 days' time.
In February 2011, the Tel Aviv District Court convicted Kam of two charges - passing on classified army information, which carries a maximum sentence of 15 years, and possessing classified information, which can result in a seven-year term. Kam was initially charged with compromising state security, but the charge was dropped as part of her plea bargain.
She was initially sentenced to four and a half years in prison and 18 months of probation. The Supreme Court then reduced Kam's prison sentence by one year after she appealed against the severity of her punishment.
Kamm, arrested in 2009, was indicted for handing Haaretz journalist Uri Blau some or all of more than 2,000 classified army documents she had stolen while serving in the office of former Central Command chief Maj.-Gen. Yair Naveh in Central Command. She scanned the documents and transferred them to her computer at home.
Blau used the information he received from Kamm to publish an article, among others, that described the IDF's assassination of wanted Palestinians, seemingly against a High Court of Justice directive. The articles, including the documents, were approved for publication by the IDF censor.
During her Shin Bet interrogation, Kamm had claimed that she was driven by ideology; she then completely changed her version in court, calling it a "stupid idea."