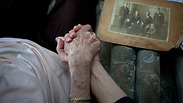 'We've already helped Holocaust survivors. We eliminated the word Nazis'
Photo: AP
From now on, we're not allowed to say Nazi. Sh*t. Pardon me. What I meant to say was that we're not allowed to say that word which starts with N and ends with azi. That word which rhymes with paparazzi and hides inside a vegetarian dish.

We can't say that word, we can't write it, we can't wear striped pajamas which may remind people of concentration camps, we can't take pictures, sculpt, draw or tell a joke whose punch line or part of it allude to Nazism. As required, an arrest warrant is being issued as we speak against Jerry Seinfeld for blatantly using the expression "soup Nazi."

Different View

Op-ed: Law banning use of Nazi symbols in Jewish state should have been enacted decades ago

So we can't say Nazi, but if I understood correctly, at the moment we can still think what we like. Israel's Knesset members have once again decided to protect the citizens from the dangers awaiting us outside our homes by, well, denying freedom of speech.

My suggestion is that we don't stop here. It's time to enact a law which will also ban the words "carbohydrate," "cute" and "irony." I imagine that Knesset Member Shimon Ohayon is unfamiliar with that last word. If he knew what it meant, he would have realized that enacting such a law which is a little, how should I put it, Nazi, is irony. Sh*t, did I just say irony out loud again?

This law is depressing not because it's a foolish attempt to discipline the language, to miserably ride on political correctness, but because it tries so hard to control the world's order, that one kind of feels like giving Ohayon a hug and promising him that even if we call them out loud, the Nazis will not come and get him.

It would be nice if the money and unnecessary energy the Knesset is putting into the enactment of "anti-offensive" laws would be invested in favor of the people for whom the word Nazi, in its different forms, causes real shivers and raises memories which refuse to let go. But enough about them, they can continue looking through dustbins. We've already helped them. We eliminated the word Nazis.