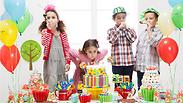 Teens with 'special needs' celebrating a birthday at a café is still not necessarily a simple story
Photo: Dan Lev
Today my tears washed Mamilla Avenue
I think that no outsider can know this. It is likely that only parents of children with "special needs" can understand why I wandered around Mamilla Avenue today and couldn't stop crying.

Theoretically this should have been simple. My daughter celebrates her 15th birthday and she, just like me, loves coffee shops. Therefore we planned to invite her class for a collective morning outing to a Jerusalem coffee shop.

However Shani, my daughter, has "special needs" and so do her friends. Despite the fact that the definition of "special needs" is very broad, the experience of children with "special needs" and their parents can be very limited.

Last Week's Portion

In this week's Torah portion, Miriam leads women and they sing and dance in conjunction with men. Perhaps rabbis who exclude women would be so kind as to reconsider their self-righteous determination that all matters of holiness require separation of sexes

The outing of eight teenagers with "special needs" to a coffee shop is a complex logistical enterprise and a lesson in and of itself. They practice traveling on a bus. They learn how to behave on the street, to read and use a menu, to speak with the waiter, to choose, to decide, to order, to focus on the discussion of their classmates despite the surrounding noise, to discover where the bathrooms are located, to use them, and to return.

Shani studies at the Alonim school, which heavily invests in its students' education. Every class of eight of the children has its own teacher and assistant. Yet despite this, eight adolescents with "special needs" at this coffee shop is still not necessarily a simple story.
The woman with baskets of worry
(Play on words from a popular Israeli song that describes a woman returning from the market with many baskets of groceries, who disruptively takes up all the seats on the bus)

Shani is 15 years old, and correctly so the Alonim school determined that parents should not attend the class-celebrated birthday party. However, unlike a "regular" 15-year-old's birthday party, when it is the birthday party of a girl with "special needs," the parents are active here and there behind the scenes.

As a mother, almost nothing was demanded of me. I was asked to do just a tiny bit, to choose a coffee shop, to coordinate with that coffee shop, to inform the teacher, and to arrive at the end of the event to pay.

In spite of this...

There is of course an "in spite of this." I am a pretty strong mother, believe me. I am not easily shaken nor do I easily apologize. I do not know if this is good or bad, but this is who I am.

Despite this motherly tough skin, with time I am discovering that next to the main entrance to the house, at a very set location, even if they are not visible, there are overflowing and burdening baskets of questions, and I drag them with me every time that I and the young lady leave the house. This happens no less when guests arrive.

Since Shani is pretty and looks very "normal," the first question is when will they "find us out?" When and how will the "deception" be exposed? When will the trappings of normalcy be torn off and all of my daughter's differences and strangeness burst forth? Will they ask? What will they ask? Will I tell?

There is also the frightening moment when she could disrupt the festivities. She speaks very loudly. She does not have many roadblocks between her mind and her mouth. Lacking inhibitions, she is capable of saying almost anything at all in a very natural fashion.

I am worried about the moment her aggressiveness will be exposed, or about her asking a question that will embarrass people. I am concerned that she will share out loud some secret that she heard in the privacy of our home. She is a teenager and I am afraid of inappropriate sexual behavior.

I worry that she will try to entice someone and I am deathly afraid of the fact that she, apparently, is easily enticed.

This may not be nice to say, but I am bothered by the question how I am perceived as her mother. Sometimes it seems to me that others think that I pamper or discipline her too much. Simultaneously I am also afraid that others will perceive me as encouraging wild and inappropriate behaviors.
With a list like this, it's hard to find a coffee shop
With this list of worries that crossed my mind when we go out alone or with friends and family, then you can now begin to imagine the "shopping list" that I arrange when I plan a special outing for eight teenagers with "special needs":
That the place not be crowded and the children will not feel trapped.
That the place will not be too noisy and will not have too many distractions.
But, that the children will have the opportunity to practice dealing with noise and distractions.
Importantly, that they will not be perceived as a burden.
Most importantly, that they will not be humiliated.
That those dining around them will not make faces.
That the waiters will have patience for their questions.
That the coffee shop's owner will not display hostility towards the children as this is a complicated visit with limited income for them.

The truth is that I wanted to walk into the coffee shops that I thought were potential candidates for this mission, and simply ask them if they were good people, and if they were willing to lend a supporting shoulder and help, and if they wouldn't mind doing a mitzvah. But these are ugly questions, as I know that even coffee shop owners who would not be happy to host my daughter and her friends are also good people. This is exactly what makes reality so complicated.

Additionally, I do not want people to perceive my daughter and her friends as charity cases, human cites for performing mitzvot. I say to myself: They are people and they deserve to stick out. I know that from an ethical perspective, I must swallow most of these worries and head out into the world as if nothing were different.

I just need to order a table at an appropriate place, to believe that they deserve society's acceptance, and that they need to learn how to function even with the stares and comments of people who do not know that sometimes they can behave differently. But mainly I need to decide that ultimately everything will be okay, even that what isn't okay will be okay.
Aroma of love
Finally I chose the Café Aroma coffee shop on Mamilla Avenue in Jerusalem. It is close to my work. It is large and wide enough. As a validated coffee shop enthusiast, I schmooze with Amir, the branch manager of this Café Aroma and I trust in him to be as patient and charming as always.

At the event's end I got the message from my young lady: "Mom, thanks a lot for getting the place at the coffee house." I understood that things ended well, and went to do my part and pay.

Luckily, I arrived before Amir managed to call me. He said, "We wanted to call you and tell you not to come. We understood that this is a birthday party. Covering the bill for this event is our gift. Your daughter and her friends were so charming, we won't let you pay."

After getting over my initial shock, I tried to argue, to plead: "Perhaps part of the bill…?" However Amir and Tami, the concessionaire, smiled and were even more adamant. I could feel the tears starting to well up in my eyes and left Aroma swelling up from that thing that was warm and satisfying and hard to define.
I cried because of 'that thing'
Because they told me the children were charming.
Because it was easy to see that they meant it.
Because it always seems like "remembering that she is pleasant" is my job.
Because sometimes I am afraid there are people that think otherwise.
Because someone really does think that they deserve to go out and have a good time.
Because this was not obvious and not necessary.
Because it felt to me like a hug.
Because Shani and I are very strong women, and we never think we need help.
Because we really don't need help.
Because it feels good when someone suddenly sees and wants to help.
Because this said "mutual responsibility" and "community."
Because there were two people to whom it was important to tell us we are not alone.
Because the word "compassion" suddenly wandered about freely and honestly in the middle of the street.

But this isn't connected to the weekly Torah portion... Believe me this is not connected. When I walked this afternoon, armed with my wallet to Aroma, the weekly column on the Torah portion had already been written, but everything moved aside when Amir and Tami said "charming" and smiled their decisive smile and I began to cry.

Anyways, from the understanding that the tears diverted from their tract the previously written reflections on the weekly Torah portion, I saw in front of my eyes the Ten Commandments that will be read in the house of Prayer this Shabbat, and I thought that that special moment of Amir and Tami isn't found on that exclusive list.

Suddenly I thought that there is no commandment whose content is "be human," "lend a supporting shoulder," "give out gifts" or "once in a while do good for those around you." I thought that the most important principle remains, perhaps rightly so, outside of the Ten Commandments, and it needs to be engraved into our hearts.

I am reminded also of the story of the non-Jew who requests of Hillel that he convert him to Judaism on one condition (Babylonian Talmud, Shabbat 31A): "...on condition that you teach me the entire Torah while I stand on one foot."

Hillel, as opposed to Shamai, converts him. And when asked to condense all of the Torah to one topic, he also did not pull a mitzvah from the Ten Commandments, not even from the Torah at all. Hillel briefly stated: "That which you hate having done to you, do not do to others. That encapsulates the entire Torah. All the rest is commentary. Now go and study."

Today, in the Aroma coffee shop on Mamilla Avenue, I encountered one of the gentle and progressive commentaries to this commandment of Hillel. I hope to go and study.

Thank you Amir Afriat and Tami Raz.

Of course I am constantly grateful to the teacher Merav Cohen and the assistant Ronit Amsalem that teach and go on trips with our children and make sure to remind us that they are charming.
I found a place that allows me to rest
In another, very different moment, a very estranged moment, the following poem was written. I feel today that I found for a moment "a place to rest."

"A place to rest" (Ruchama Weiss, "I'll Sin and Then Repent," The United Kibbutz, 2013)

"She said to us: I.Q. 70. To more exactly quote her, she sat in front of me (curls - curls of gold) and said: between 68 to 69. And where will we rest our love, girl, and the whirlpool of feelings (and the knowledge that we will never be able to view them from a distance)

"And that moment when you asked to sleep With me, and I said: Good, but only For a few minutes. And where will we rest the SMS in which you wrote me: 'I luve yuo. Were are u? Wh don't you awnser me' so that It will never be erased. And where will rest your outrage and your affront That again they didn't understand. And where will we rest My fear, that one time your anger will never end. And where will the woman of the I.Q., rest my tiredness. And where did I rest the Ritalin (again I forgot To give you Ritalin). And among all the things that don't arrive on time, where will we rest the teenage years, that of all things does."
And in the beit midrash of talkbacks
Amir Buchbut (in a Facebook response) brought many biblical examples of women singing and of men listening to their voices. Thank you, Amir, for the supporting texts.

And the "Tour Guide" (Talkback 34) brings wonderful and humorous proof that the men on the shore of the Red Sea heard the women singing.

And to all the many responders that wrote that Miriam and the women beat drums to drown out the sound of their own voices... Honestly, I have no idea when this interpretation was born, but if it helps you - enjoy it... I have nothing more to say on that.

Shabbat Shalom!

Translated by Uzi Bar-Pinchas

Click here to read this article in Hebrew