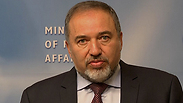 Foreign Minister Avigdor Lieberman
Photo: Eli Mandelbaum
Following the summoning of several Israeli ambassadors to European countries to express protest at Israel's plan to build additional settlements, Foreign Minister Avigdor Lieberman ordered Friday morning to convene the ambassadors from Britain, France, Italy and Spain for a talk in Jerusalem, in order to clarify they are taking a constant one-sided stance against Israel.

It is expected to be stressed to the foreign ambassadors that their stand is unacceptable and creates the impression they are only looking for a platform to blame Israel.

Minister Lieberman instructed to tell the summoned ambassadors that Israel is making great efforts in order to allow the continued dialogue with the Palestinians, and that the position taken by these countries, aside from being biased and unbalanced while ignoring reality, significantly harms the possibility of an agreement being reached.

Related stories:

Prime Minister Benjamin Netanyahu dismissed international critics of Israel's West Bank settlements as hypocrites. Speaking to foreign journalists, Netanyahu said Thursday that claiming settlements were an obstacle to peace was "bogus".

According to him, the EU summoned Israeli ambassadors and protested the construction in the West Bank over "a few houses", but did not summon Palestinian diplomats over Palestinian misdeeds.

"I think it is time to stop this hypocrisy," he concluded, "Israel, which goes to great length in order to maintain peace and battle terror for the benefit of both Israelis and Palestinians, is always criticized."

Last week, in the midst of negotiations, the Housing Ministry issued tenders for some 800 housing units in settlements and 600 beyond the Green Line in Jerusalem.

These tenders were planned to be released together with the latest release of prisoners, however were delayed due to talks in the region carried our by US Secretary of State John Kerry.

According to the details of the building plan, there will be 86 new units in Karnei Shomron, 102 in Emanuel, 227 in Efrat, 78 in Alfe Menashe, 40 in Ariel, 75 in Geva Binyamin-Adam, 24 in Beitar Illit and 169 in Elkana. There will also be an additional 600 units built in the Ramat Shlomo neighborhood of Jerusalem.

Plots of land in Jerusalem, which previously had tenders published but the building was not fulfilled, will also be up for grabs. There will be 182 units in Pisgat Ze'ev, 294 in Ramot and 56 in Neve Yaakov.