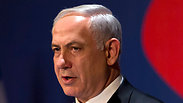 PM Benjamin Netanyahu
Photo: EPA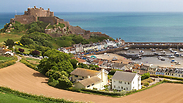 Following the report by Israeli daily Globes regarding an offshore bank account of Prime Minister Benjamin Netanyahu in the island of Jersey and subsequent criticism on the matter, a bill seeking to require elected officials to expose their offshore bank accounts is proposed.

The motion was submitted by Knesset Member Merav Michaeli (Labor), and it serves as an amendment to the Parliamentary Immunity Law.

"Article 34b in the Parliamentary Immunity Law states that an MK, or a former MK, will submit a financial statement as stipulated by the Knesset's rules of ethics," the bill's explanation reads.

"In accordance with the Knesset's rules of ethics, the financial statement includes all capital, assets and rights, liabilities and debts for each MK and their families, and their sources of income. The ethical code further states that the Knesset speaker will maintain confidentiality of the declarations and will not reveal any detail, unless it was agreed or requested by the individual MK, or demanded by court."

MK Michaeli seeks to amend the current state: "Offshore bank accounts are a specific element within the financial statement. At times, bank accounts are held outside of Israel in order to pay reduced taxes. While this is a legal procedure, it is proper for the public to know whether its elected officials take such actions. The purpose of the proposed bill is to expose the financial scope of elected officials in offshore bank accounts."

The Israeli daily Globes revealed on Wednesday that Prime Minister Benjamin Netanyahu had previously held a bank account in the Channel Islands, which is a tax haven.

Netanyahu's bank account was active between the years 1999 and 2003, while he took time off from political life, but still maintained his account even after his return to the government in 2002. It should be noted that this activity is allowed by law.

The Prime Minister's Office responded to the Globes report: "Once again, your attempt to discredit Prime Minister Netanyahu does not match the facts. This is an account that has not been active since 2003. In 1999, after ending his first term in office as prime minister, he made an investment that had no tax advantage against Israel. The accounts and deposits were fully reported to the authorities in Israel, including the Israel Tax Authority, and were included in capital statements filed by PM Netanyahu to Israeli authorities."