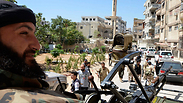 France's interior minister says about a dozen French adolescents have left for Syria to join jihadi groups or are trying to go, a phenomenon that is accelerating.

Manuel Valls said Sunday on iTele TV that since the end of 2013, there's been an uptick in French youth heading to Syria to join jihadi organizations.

Valls said French intelligence services have identified six adolescents who are trying to get to Syria. He noted the war to oust President Bashar Assad has attracted more Westerners, from Europe and elsewhere, than other battlegrounds like Afghanistan ever did.

Related stories:

Valls said about 250 French are fighting in Syria, 150 have shown they want to, 99 are in transit and 76 have returned. He says there have been 21 French deaths in Syria.

Jihadi organizations in Syria have been recruiting young fighters from across the Arab world at an increasing pace as the fighting takes a toll on the rebel ranks.

From France to Yemen to Gaza, Muslim men in their late teens and early twenties have answered the call of rebel leaders and made their way to mountains and cities of Syria.

The rebel groups have turned to Facebook and other social media networks, posting videos and campaign slogans to attract potential jihadis.

American, British, and French authorities have expressed alarm at the trend and are concerned that the young jihadis will return home radicalized.