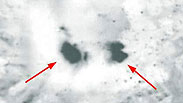 Airstrike
Photo: IDF Spokesperson Unit
Hamas-affiliated Gaza media released a video which they claim presents Sunday's IDF airstrike in Gaza.

Footage of blast

An Islamic Jihad terrorist and a Palestinian boy were wounded in the targeted which the IDF launched in retaliation for rocket fire from the Gaza Strip on southern Israel.

Related stories:

Official Palestinian sources identified the two as a 22-year-old who was seriously wounded, and a 12-year-old boy who sustained moderate injuries. A Gaza emergency services spokesperson told AFP that the boy had been standing nearby when Israel fired on the the motorbike driven by the terrorist. He had suffered head injuries as a result, he said.

The IDF named the 22-year-old as Ahmad Saad, and said he was directly involved in firing rockets at Israeli civilian populations last week. He also played a large role in fighting the IDF during Operation Pillar of Defense in November 2012, and in the escalation of rockets fired at Israel in March 2012, the IDF Spokesperson said.

The strike comes after the IAF attacked two terror hubs in the center of Gaza Strip overnight Saturday, which came after rockets were launched at Israel from Gaza on Saturday night. The IDF said that all the Air Force strikes were direct hits on the intended targets.

The rockets fired at Israel landed in an open area between two communities in Sha'ar Hanegev; no injuries were reported. The rocket fire was the third such attack in one week.