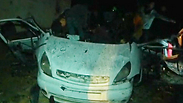 IAF strike in Gaza, Tuesday night
Photo: Reuters
Like a basketball team moving to man-to-man defense, Israel's defense establishment has moved from an automatic response to rocket fire from the Gaza Strip to specific assassinations. If possible, targeted assassinations of activists involved in rocket launching, and if necessary "hot" assassinations of launching cells as they prepare to fire rockets or immediately afterwards.

The reason for this shift is the fact that the automatic punishment and deterrence responses Israel hit the Hamas and Islamic Jihad with every time rockets landed in the Negev were inefficient and wrong. That is also the reason why no deterrence was achieved and the rocket fire continued.

Paradoxical Prevention

Organization running Gaza Strip has set up security checkpoints to prevent escalation of hostilities with Israel. Diplomatic communications through Egyptian mediator help avert breakdown of status quo

In an absurd situation created recently, Hamas and the Islamic Jihad are doing almost everything in their power to prevent the rebellious organizations from firing rockets at Gaza. They are not doing that because they have become Zionists, but because the current government in Egypt, and mainly the Egyptian army, have made it very clear to them that they must not spark a flare-up with Israel which would force Egypt to intervene in their favor.

Another reason is that even without the potential conflict, the Gazans are in deep trouble with the Egyptian government, which is imposing an effective siege on the Strip and systematically destroying the smuggling tunnels from and to Gaza.

At least that's what they say. There are those who say that in some cases Hamas is turning a blind eye to terror attacks along the fence and to rocket fire in order to pressure the Egyptians to ease the siege, so that they would not need goods and fuel from Israel, but Israel tends to believe the Hamas and Islamic Jihad, and intelligence shows that they are indeed working to prevent rocket fire on the ground.
Solution to terror without an address
In such a situation, there is no point in destroying a Hamas training camp or in hitting one of its other assets in response to rockets fired by a rebellious element, but there is a growing phenomenon in the Strip of terror without an address, which had to be handled separately, apart from the attempt to force Hamas to prevent the fire.

This solution is the targeted assassinations, and they have several advantages: They hit the involved people directly – if not the launching cells themselves, then those involved in tying the ends which eventually make a launch possible. Secondly, they have international legitimacy – the Americans use the same method against al-Qaeda. Thirdly, this activity has proved to be effective both when the Americans used it and when we did, under one condition – intensive and systematic execution, which creates a strong and deterring effect, rather than a sporadic response with big time intervals between one assassination and the other.

This requires accurate and real-time intelligence, as well as an operational opportunity in which the launching activist and his assistants are not around uninvolved citizens. This is a complex act which requires proficiency and integration of many intelligence collection factors, especially when it comes to Gaza, where the IDF is not physically present. A situation created in the Strip recently, however, is making the targeted assassinations easier. It can be referred to as the "privatization of the production, purchase and launching systems of rockets and explosive devices."

At the beginning of the past decade, mainly during and after the second intifada, Hamas and the Islamic Jihad nearly had a monopoly over the maintenance and manufacturing of rockets. These rockets, especially the Grads, arrived from Iran or were funded by Iran through the smuggling tunnels in Sinai straight to these organizations, which also launched them. The small organizations and the other armed groups, including the Palestinian Popular Front, had no access to the rockets, particularly not to long-range rockets.
Independent dealers
Recently, because of the Egyptian activity against the tunnel, a very large system of rocket production of all kinds – including heavy rockets – has developed in the Strip. Alongside this system there was a development of launching experts, who at first worked as part of Hamas, the Islamic Jihad or Fatah, but over the years turned into "independent dealers" offering their services to anyone. They know where rockets are produced and can be obtained "on the side" – from one of the manufacturers who would be glad to make some money on the side, they know who needs them and also how to launch them.

They have become a factor which provides its services to all groups, an institutionalized organization like the Popular Front for the Liberation of Palestine or Salafi and jihadist organizations in the Strip and in Sinai.

In April 2013, for example, Israel killed a Palestinian who supplied rockets and knowledge to jihadist organization Ansar Bayt al-Maqdis, which fired rockets at Eilat. Others like him are active in the Strip, and two of them were assassinated this week as part of the IDF and Shin Bet's new policy, which Prime Minister Netanyahu alluded to.

This policy has two advantages which are already apparent: It does not create tensions in our relations with Egypt, and it does not force the Hamas and Islamic Jihad to enter rounds to escalation with Israel, as these launching cells' activists are not clear members of their organizations and are in fact acting against their interests.

A response might come from the Salafi and jihadist organizations, which do not have the proper knowledge, experience and arms, but are motivated to seek revenge for an assassination of the "providers" of these goods.
Hamas has yet to decide
It's important to note that few actually understand these rocket launchers, semi-independent operatives working entirely out of their own volition for a bit of cash on the side. Most of them are veteran launchers who were once leaders of terror cells or divisions of bigger terror groups, such as the Palestinian Islamic Jihad.
Most decided to step aside with their followers, and their arsenal of rockets. Others were sent away due to infighting with the leadership, and are now acting as independents in order to cause trouble for Hamas or Egypt.
Israel, as always, is the victim.
And what's also important to note is that Hamas doesn't have a problem with these independent fighters, as long as they aren't causing problems for the organization itself.
Hamas doesn't arrest these rebellious activists. Instead it deploys its members to stop the rocket firing while the rockets themselves are being fired, and all it does is try to convince them not to shoot.
Hamas hasn't decided yet if it's ready to stand face to face with the Salafists and Jihadists in order to please the Egyptians, or if it's willing to let them be and confront the Egyptians. But as long as the radical groups don't challenge the throne in Gaza, Hamas will be satisfied.