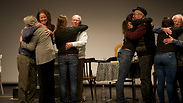 Teenagers and Holocaust survivors. 'They created an amazing dialogue'
Photo: Eyal Bribram
Israeli teenagers have teamed up with Holocaust survivors in a play based on the stories of the death camp survivors. "It changed our lives," says one of the youths from the Eshkol region in southern Israel, who portrays a Jewish child in Nazi Germany.

"Only when they cried on stage did we realize that something had stung their heart," one of the survivors recounts. "This is the only way to perpetuate the tragedy of the Jewish people in Europe."

In Different Eyes

How can young Arab man play Jewish child who survived Nazis? 'Everyone who knows me accepts it. My humanism is even more important to me than acting,' says Elias Matar of northern village of I'billin

The survivors met with the teens over the course of a year and shared with them their experiences and the experiences of their family members during the Holocaust.

At the end of the process, 18 stories were composed for the show, "We're Here Despite Everything," which was performed at the Negev Theater in cooperation with the Eshkol Regional Council.

(Photos: Eyal Bribram)

"The condition for the meeting was that the youth would be part of the process. That's what the survivors asked for," says the theater's director, Issy Mamanov.

"The sides created an amazing dialogue, and the survivors revealed stories they never had the courage to tell before. Their childhood was lost, crushed. They lost the most precious thing in the world, and now they are being portrayed by teenagers. It touches everyone's heart."

Nitzan Avital, 17, plays the role of Rachel Shachar, a Holocaust survivor from Budapest who today lives in Kibbutz Magen. During the Holocaust, Shachar was taken away from her mother several times, and in the show Avital portrays the 11-year-old girl looking for her.

"She is an amazing woman," Avital says. "She has the joy of life, but her story is sad and difficult. I had tears in my eyes more than once while playing the role."

Her older friend appears emotionally moved too. "She does it perfectly," the Holocaust survivor says. "Sometimes I look at her and see myself."