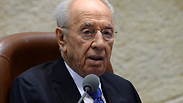 President Peres
Photo: Kobi Gideon, GPO
President Shimon Peres continued with his diplomatic actions in the World Economic Conference in Switzerland, as he was awarded a special honor Friday morning: A special plenary of the convention's participants saluted Peres for his activity in the past two decades to promote the global forum.
"If you ask of me to describe myself – I would say I am an insatiable optimist. A good Jewish man cannot be satisfied. In my opinion, the greatest pleasure is at work and not at rest," he said.
As part of the event, Peres was given the "Spirit of Davos" award.
At the beginning of the ceremony, Peres, asked about the situation in Iran, said that if Tehran wasn't honestly interested in war it wouldn't be investing in its nuclear plan. But he emphasized again that Iran is not an enemy and that Israel doesn't want to go to war with the Iranian people.
He also told the world not to be cynical of the Americans' actions in Iran, saying they have no need for the oil, they are only there because of their values.
Peres sharply criticized Iranian President Hassan Rohani's speech at the World Economic Forum in Switzerland on Thursday.
"The most significant remarks were the ones he didn't make. He didn't express support for peace in the Middle East," he said.
Peres also said that the only solution for Syria has to come within Syria. He said he believed the young generation would solve the crisis.