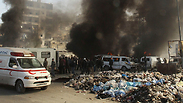 Syrian civil war
Photo: Reuters
More than 60 people have died over the past few months in a besieged Palestinian refugee camp in Syria's capital from a lack of food and medicine, an activist group said Friday.

The Britain-based Syrian Observatory for Human Rights said that the first person died in the Yarmouk camp in June. It said a total of 63 people have died there since the siege began – 61 of which died in the past three months.

Yarmouk, on the southern fringe of Damascus, is one of the worst-hit besieged areas in Syria. Activists and residents previously said that some 50 people died of starvation and hunger-related illnesses since the government imposed a blockade on the sprawling district a year ago.

Related stories:

The Observatory called on the international community, and Russia, which has close links with Syrian President Bashar Assad's government, to work toward lifting the siege imposed by government forces and loyal Palestinian militiamen.




"It is shameful that the international community, which claims to protect human beings, is not working for ending the humanitarian crisis in Syria," the group said in a statement.

Over the past week, authorities allowed a few hundred food parcels to reach the camp in what appeared to be a goodwill gesture ahead of a peace conference in Switzerland.

Rami al-Sayed, a videographer and resident in the Yarmouk camp, said earlier this week that only a tiny amount of aid entered because government officials ordered aid workers to distribute the parcels in an area under sniper fire.

The need to open humanitarian corridors to relieve civilian suffering is one of the expected topics of the peace conference that opened Wednesday in the Swiss city of Montreux.
Residential refugee camp
Palestinian residents of the sprawling Yarmouk camp, who were warned by the Syrian government against hosting rebel forces shortly before those same rebels took over the camp in December 2012, number in the hundreds of thousands.
Previously, Palestinians enjoyed a relatively comfortable living in Syria, where now-embattled President Assad had been hailed as a defender of the Palestinian cause. As opposed to their compatriots in other Arab nations, Palestinians in Syria had not been hindered from professional pursuits or political participation.
The Yarmouk camp was set up in 1957 by the Syrian government to accommodate the Palestinian squatters who had made their way to Damascus in the years following Israel's 1948 War of Independence. However, the camp, containing the largest concentration of Palestinians in Syria, is not internationally recognized as a refugee camp.
Unlike most refugee camps, Yarmouk is a residential neighborhood on the outskirts of a major Arab metropolitan. There are no tents in sight, thought the UNRWA, the UN agency for Palestinian refugees, does operate several schools, hospitals, and health centers.
Roei Eisenberg contributed to this report