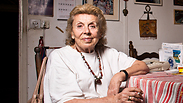 Shulamit Aloni
Photo: Tal Shachar
Former education minister Shulamit Aloni was laid to rest Sunday afternoon at the Kfar Shmaryahu Cemetery. The ceremony was attended by President Shimon Peres, as well as many senior political figures.

Aloni passed away on Friday at the age of 85, and was buried next to her late husband Reuven. After her sons read the Kadish, a funeral service in her memory began.

Related stories:

President Shimon Peres eulogized Aloni: "We came to say goodbye to Shula, but we will not part from her way. She left but her world stays with us."

Peres added: "Sonya (Peres' wife) and she were the best of friends. It was unthinkable that there was one fake note, and one lie, between these two women. Shula was civilization in itself, she was like no one else."

"There is a sense of a great loss of a leader who contributed to the Israeli society and its democratic character for decades," said her son Dror. "My mother's most significant contribution was to the fields of civil rights, education and culture."




Meretz Chairwoman Zahava Gal-On also paid her last respects to the former education minister: "We must find the strengths to fight for Shula's way."

"We have a cowardly leadership, that cannot take a stand against the most ugliest acts of violence. We have a Minister of Education that does not have a shred of courage and integrity to protect Adam Verta, the teacher from Kiryat Tivon who's accused of leftism," Gal-on added.

Aloni, an Israel Prize laureate, is survived by three sons: Dror Aloni – an educator who serves in the Kfar Shmaryahu education board, Professor Nimrod Aloni, and moviemaker Udi Aloni. She was the second woman minister in the history of Israel – after Golda Meir – when she served as a minister without a portfolio for several months in the first Yitzhak Rabin administration after the Yom Kippur War .

Aloni was one of the first to deal with and promote the subject of civil rights in Israel. During her political life, Aloni helped construct shelters for battered women, worked against religious coercion and created marriage contracts for couples who could not or did not want to be married by an Orthodox rabbi, and was among the founders of the International Center for Peace in the Middle East.

In 2000 she was given the Israel Prize for lifetime achievement, a choice that had a great deal of opposition, mainly in the religious circles. She published several books and articles and was a columnist for Yedioth Ahronoth and the weekly magazine La' Isha (For Women).

After retiring from politics, Aloni continued to lecture in the academic world on matter of civil rights and political-legislative ties. She was also a known activist against the Israeli control of the West Bank and advocated a territorial compromise.