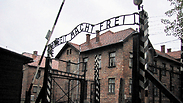 Entrance gate to Auschwitz camp
Photo: EPA
A massive delegation of Israeli politicians, public figures and Holocaust survivors departed for Poland in the early hours of Monday morning for a memorial service at the Auschwitz-Birkenau Nazi death camps to mark the International Holocaust Remembrance Day.
This is the largest delegation since the establishment of Israel's parliament in 1949. The 350-strong group includes 59 members of Knesset (among them three ministers and four deputy ministers), State Comptroller Joseph Shapira, two dozen Holocaust survivors and their families, and another 250 public figures.
Related stories:
The delegation was to be joined in Poland by some 24 parliamentarians from a number of European countries, including France, Russia, Germany, Greece, Hungary, Italy and Spain.
The Israeli delegation is comprised of lawmakers from across the political spectrum. The event has placed unprecedented complex logistical demands on the Knesset, requiring intense coordination on personal security and with Polish security sources, as well as planning for the flights, transportation and accommodation, and medical professionals and equipment. The delegation flew to Krakow in two planes, with the MKs split between the two aircraft for security reasons.
Knesset Speaker Yuli Edelstein had been scheduled to head the delegation, but cancelled following the passing of his wife last week. He was replaced by coalition chairman MK Yariv Levin and the opposition leader, MK Isaac Herzog.
At Auschwitz, the members of the delegation were to tour barracks and the camp museum in Block 27, before marching to Birkenau, some three kilometers away, for an official ceremony.
The ceremony was to include comments from Israeli, Polish and Russian representatives. At the end of the ceremony, the Israeli delegation planned to say kadish beside the monument at Birkenau, recite the El Maleh Rachamim funeral prayer and light candles.
In the evening, there was to be a meeting of lawmakers and dignitaries from Israel, Poland, the United States, Canada and other nations.
The meeting was to include minute-long speeches by the participants. Following this event, the Israeli delegation was to be the dinner guests of the World Zionist Organization, before returning to Israel.