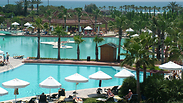 Antalya, Turkey. Growing trend
Photo: Ilan Halperin
Israelis are flocking back to Turkey: According to figures released by the Turkish Statistical Institute, some 165,000 Israelis visited the country in 2013 – a 96% increase from 2012.

Although the 2013 figure is only 29% of the number of Israelis who arrived in Turkey in the record year of 2008, there is definitely a growing trend in the number of people visiting the country since Prime Minister Benjamin Netanyahu apologized to his Turkish counterpart, Recep Tayyip Erdogan, for the deaths of Turkish citizens in the 2010 Gaza flotilla raid.

Bon Voyage!

Survey reveals Israeli travelers favor Thailand rather over European destinations like London and Barcelona. Turkish Airlines named most popular foreign airline in Israel

Some 79,000 Israelis visited Turkey in 2011, 84,000 arrived in 2012, and in the past year the number nearly doubled.

According to travel agents who are preparing a variety of vacation packages ahead of the Passover holiday, the growing trend in Israelis' visits to Turkey is apparent mostly among individuals and families. Workers' committees, which led the visits to Turkey from 2005 to 2008, are still boycotting the country over its strained relations with Israel.

The Turkish airlines, which are still the only companies flying from Tel Aviv to Istanbul and Antalya, carried 1.09 million passengers on the Israel-Turkey route last year. Turkish Airlines recorded a 60% increase in the number of passengers on that route, becoming the biggest foreign airlines operating in Israel.

Pegasus presented a 104% jump in the number of passengers, making it to the seventh place among foreign airlines operating in Israel. Corendon Airlines, which flies to Antalya, presented an increase of more than 88% in the number of passengers it carried from and to Israel last year.