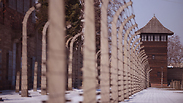 'Auschwitz may be hundreds of kilometers from Hungary but it is part of Hungarian history'
Photo: Israel Bardugo
VIDEO - Hungarians collaborated with Nazis in sending nearly half a million Jews to their deaths, Hungary's president said on Sunday in a rare public acknowledgement of a war-time past that Jewish groups say is often glossed over.

Earlier on Sunday, an American historian said he was returning an award he received from the previous head of state in protest at what he called the government's attempt to erase Hungary's role in the Holocaust.

Video courtesy of jn1.tv

In a statement prepared for Monday's Holocaust Memorial Day, President Janos Ader said that if the war had gone according to the plans of Adolf Hitler and his Hungarian fascist allies, Jews would have been exterminated completely from Hungary.

Disputed Monument

Government urged to cancel plans to erect large statue seen as part of efforts by to blur responsibility of Hungarian officials, security forces in deportations of Jews during Holocaust

"Auschwitz may be hundreds of kilometers from Hungary but it is part of Hungarian history," Ader wrote. "This death camp was the scene of the inhumane suffering, humiliation and death of nearly half a million of our compatriots."

Jewish groups have criticized the centre-right government of Prime Minister Viktor Orban for what they see as its lackluster attempt to fight anti-Semitism.

A Jewish group has threatened to boycott Holocaust commemorations over plans to erect a monument to the German occupation in 1944. It said that pushed the blame for the genocide solely onto Germans, obscuring the role of Hungarians.

Orban, favorite to win re-election in April, has said he would do everything to stamp out growing anti-Semitism in a country where a far-right party, Jobbik, again openly uses anti-Semitic rhetoric and last November unveiled a statue of wartime leader Miklos Horthy, an ally of Hitler.

"Seventy years ago, after our nation's German occupation, the Nazi overlords and the Hungarian authorities that collaborated with them seemed to fulfill the will of Hitler's Nazi Germany," Ader wrote.

"In barely half a year they mercilessly completed ghettos and deported almost the entire rural Jewry."

Because the deportations were halted in July 1944, tens of thousands of Jews were spared the gas chamber, mostly in Budapest, and the central European capital today is home to the largest indigenous Jewish community in Europe.
Criticism from historian
Before Ader's statement was released, veteran Romanian-born historian Randolph Braham, who settled in the United States after World War II, said he was returning Hungary's Order of Merit which he received in 2011 for his work, including on the Hungarian Holocaust.
"I have followed the latest developments in Hungary with great concern," Braham wrote in an open letter posted on several news websites. "I was shocked, as were surely others, at the past few years' campaign to whitewash history."
"They wish ... to excuse Hungary from the responsibility for the active role it played in annihilating nearly 600,000 of its Jewish citizens."
In Hungary the Holocaust began years before it came under direct German occupation in 1944. Under Horthy, there were anti-Jewish pogroms, several reported instances of mass killings and the deportation of thousands of Jews to labor camps.
Occupying German forces then received willing help from Hungarian authorities in deporting 437,000 Jews within a few weeks in 1944.
"(The) national monument to the German occupation... is a cowardly attempt to deflect attention from the role the Horthy regime played in the annihilation of Jews," Braham wrote.
"It blurs the Holocaust with what they say is the suffering of Hungarians during the German occupation ... which was met with general applause rather than resistance, as proven by historical facts."