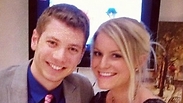 Yair Netanyahu with Sandra Leikanger
Screenshot
The love life of Prime Minister Benjamin Netanyahu's son is setting off sparks -- in Israeli politics.

News that 23-year-old Yair Netanyahu is dating a non-Jewish Norwegian university student has generated interest not just in gossip columns but has also prompted an uproar from religious lawmakers. Orthodox Judaism prohibits intermarriage.

Related stories:

According to reports in Norwegian media, the Israeli prime minister boasted to his Norwegian counterpart, Erna Solberg, about the relationship during a meeting at the World Economic Forum in Davos last week and informed her that his son recently visited Norway with his girlfriend.

On Monday, the leader of the ultra-Orthodox Shas party said he believed the relationship actually caused Netanyahu and his wife great "heartache." Aryeh Deri told a local radio station the relationship was no mere personal matter because Netanyahu is a "symbol of the Jewish people."

"I know friends of mine who invest tens of millions and more, hundreds of millions to fight assimilation in the world," Deri told the Kol Barama station. "If God forbid it's true, woe to us."

Other groups called on Netanyahu to put a stop to the relationship and even his brother-in-law took to the airwaves to speak out against it.

Netanyahu is a fervent Jewish nationalist and history buff, speaking out strongly against anti-Semitism and other threats facing the Jewish people. He has steadfastly demanded that the Palestinians recognize Israel as the Jewish homeland as part of any peace agreement.

In his younger days, Netanyahu was married a non-Jewish woman who later converted.

Yair, a university student, is the son of Netanyahu's third wife, Sara.

Netanyahu's office has declined to comment on the matter.