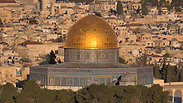 'Future of Jerusalem can only be secured by respecting legitimate rights of each party'
Photo: EPA
Jerusalem will seal the fate of the current peace negotiations. Jews and Arabs must square the circle and recognize the legitimate demands of each side in order to clinch a genuine peace agreement. Is doing so a geometrical impossibility or can Jerusalem transcend the limits of political geometry?

In order to explore the avenues that could lead to peace, it is essential to empathize with the aspirations of both Jews and Palestinians. What do Arabs expect from the negotiations over Jerusalem? They expect access to Muslim and Christian holy sites, sovereignty over Arab East Jerusalem and the recognition of East Jerusalem as the capital of a Palestinian state. What do Jews demand in exchange? They demand a peace agreement that does not pave the way for snipers to shoot at Jews across the Kidron Valley.

Undividable Capital?

Op-ed: Release of terrorists from east Jerusalem under claim that they are not 'Israeli' holds a glaring mirror to our face

The Gordian knot negotiators need to tackle is reconciling Arab sovereignty aspirations with Jewish security rights. This political aporia can only be solved by looking beyond the bounds of European political convention. Although there are good reasons to oppose a Palestinian militarization of east Jerusalem, there is no reason Arabs in east Jerusalem should be ruled by Israeli laws. Should it thus not be possible to agree that European Union – or United Nations-led security forces enforce Palestinian laws in east Jerusalem?

There are several benefits to such an arrangement. Firstly, it reassures Israel that east Jerusalem will not evolve into a second Gaza Strip. Secondly, it ensures that east Jerusalemites will be patrolled by security forces that are more humane and professional than their Israeli and Palestinian counterparts. Thirdly, this solution affirms the jurisdiction and de facto sovereignty of a Palestinian parliament over east Jerusalem without harming Jewish security interests.

In such a scenario, there is no need to tear the city asunder with a concrete wall. There is no need to destroy the vibrant tourism and trade that unites the city. There is no need to define exact boundaries for Jewish and Arab neighborhoods given that Jews and Arabs should be allowed to live undisturbed side-by-side. Legally-minded readers might ask themselves how legal jurisdiction should be applied. There are two main alternatives that address this issue: Jurisdiction could be territorial, meaning that Palestinian laws would apply to both Jews and Arabs in east Jerusalem and Israeli laws to both Jews and Arabs in west Jerusalem.

An alternative worth considering is establishing a personal jurisdiction so that Israelis are judged according to Israeli laws and Arabs according to Palestinian laws irrespective of geographical location. In this case, mixed-nationality lawsuits could be tried by mixed-courts according to the laws of the plaintiff. Thus, if an Israeli defaced a mosque in a price tag attack he or she would be tried according to Palestinian laws. In an analogous way an Arab that stabbed a Jew would be tried by an Israeli court irrespective of where in Jerusalem the crime took place. I can think of no better arrangements to deter incitement and crime.

There are other pending issues which could be solved along similar lines. Issuance of construction permits and zoning laws could be enforced by a mixed-nationality urban commission according to nationality-blind architectural criteria and not to favor one nationality over the other as is the case today. This would enable Jews to reside in east Jerusalem and Arabs in west Jerusalem without the friction and tensions caused by today's apartheid-like housing policies of the Israeli government.

The future of Jerusalem can only be secured by respecting the legitimate rights of each party. I am confident that if the arrangements described above were voted on, both Jewish and Arab Jerusalemites would agree to them. Jerusalemites want a united city yet feel that laws should respect the unique character of the city. A peace agreement needs to respect this reality in order to bless Jerusalem with peace.